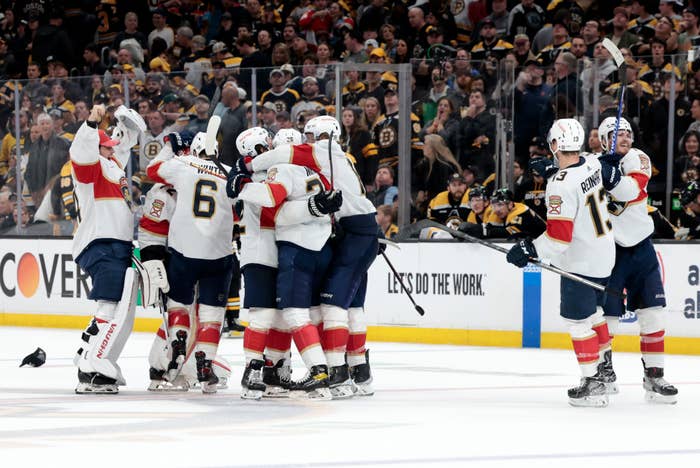 Toronto Maple Leafs fans have a lot to celebrate but also something to be confused about.
After beating the Tampa Bay Lightning in the first round of the Stanley Cup Playoffs, the team will now head right back to the south where they'll square off against the Florida Panthers. While Florida is known to receive Canadians year-round, fans hoping to catch a game down there won't be able to buy tickets from Ticketmaster just yet.
Tickets for Game 3 of the second round are now available, but sales are being limited geographically, according to a notice on Ticketmaster's website. 
"FLA Live Arena is located in Sunrise, Florida. Primary sales to this event will be restricted to residents of the United States," the notice reads. "Residency will be based on credit card billing address. Orders for primary tickets by residents outside of the United States will be canceled without notice and refunds given. The presale will end on May 2nd, 2023 at 11 AM. Resale tickets are available for all buyers."
According to Florida Hockey Now (FHN), Panthers president Matthew Caldwell said that they have not released all the available tickets yet and more will arrive in the next few days that could be available to everyone who doesn't necessarily live in Sunrise.
The article also explains that the restriction could end as soon as tomorrow.
"We're not sold out yet, but we could be if we wanted to be and we will be,'' Caldwell said to FHN. "For the first 24 hours or so, we're trying to restrict the sales for our Florida fans. It is just an access thing so our fans can get tickets. We are going to allow tickets to be sold to Toronto fans eventually.''
The Panthers begin their series against the Leafs tomorrow in Toronto and will return to Florida for Game 3, though the date has yet to be confirmed.