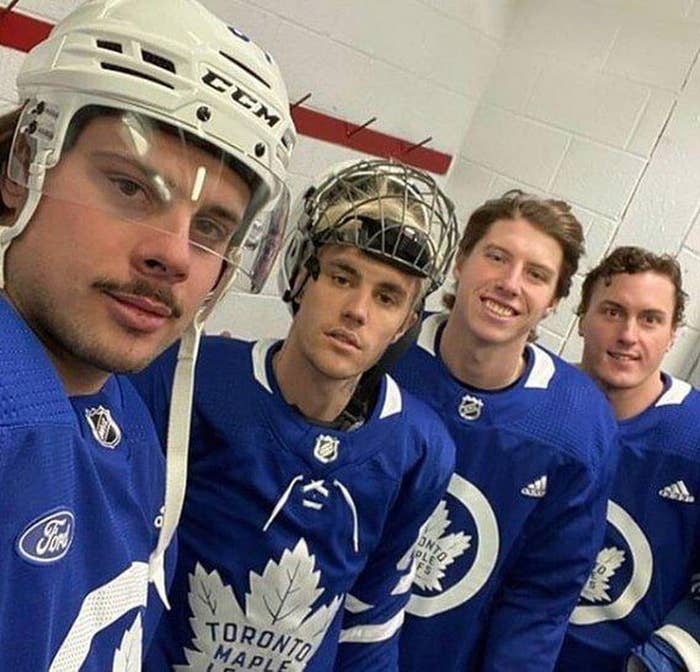 It was the game of holiday shinny seen around the world. When Justin Bieber dropped a Maple Leafs' group selfie on his 124 million Instagram followers shortly after Christmas, he essentially reaffirmed what Torontonians have known for years: Bieber is a BeLeafer. But the picture set tongues wagging for an entirely different reason.
Although fellow Leafs Mitch Marner and Tyson Barrie also feature in the viral snap, eyes are inevitably drawn to the real focal point of the photo: the 25-year-old Canadian pop megastar standing next to the Buds' record-setting Auston Matthews, 22, further amping up conversation around their rapidly blossoming bromance.
The mutual love is real, and while it has been quietly building for roughly a year, it's only been in the last two months that the public has really started paying closer attention.
Toronto already has one superstar sports fan with Drake and his championship-winning Raptors, but even Champagne Papi hasn't bonded with any one player the way Bieber has with Matthews. The connection runs deep, with Biebs referring to the Leafs as his "ride or die" on social media and repeatedly calling out Matthews in particular as "the GOAT" on more than one occasion.
They like one others' social media posts, share their Insta stories, and speak highly about one another with off-the-cuff soundbites.
"It's pretty sweet," Matthews told TSN back in October. "It's cool having guys like [Bieber] be big fans of the team … obviously him being from here and him being who he is, it's pretty awesome to see."
It's no secret that Bieber bleeds blue and white—but make no mistake: he's no fairweather fan. While we've witnessed brief stints where he's donned a Winnipeg Jets or Edmonton Oilers jersey, his heart clearly belongs to the Buds. Public sightings of his loyalty date back a decade, when the younger Bieber would take part in the occasional team practice during the Dion Phaneuf era, posing for photos in a team jacket gifted to him by the franchise. Now, this younger and faster club is more in Biebs' age demo—leaving plenty more opportunities to establish long-lasting bonds.
Although he made plenty of home game appearances with wife Hailey Baldwin on numerous occasions during the 2018-2019 NHL season—he was even on hand when the Leafs took a 3-2 series lead in the first round of the playoffs versus the Boston Bruins—we're expecting to see a lot more Bieber-Matthews love as the 2019-2020 season progresses.
Here's a breakdown of the Bieber-Matthews friendship so far:

Sept. 2, 2019
Just as teams were coming together again after summer vacay to kick off the 2019-2020 NHL season, Matthews shared this snap with his Instagram followers featuring himself on the franchise's private plane (with the Leafs' Great Dane, goalie Freddie Andersen) wearing a sweater from Bieber's Drew House clothing line. FYI, the hoodie retails for $130 (USD), although there's no word on whether the duds were gifted to Matthews by the pop star himself.
Oct. 25, 2019
Bieber and dad, Jeremy, got up close and personal with primo seats right behind the bench as the Leafs faced some home action against the San Jose Sharks. Biebs was clearly amped up for the game, wearing a Matthews jersey and snapping a diverse range of Instagram stories, from the players warming up on the ice to a close-up of then-coach Mike Babcock's hand holding a bottle of water. The star, and Leafs Nation, were not disappointed that night. The Buds nabbed two points, coming up big with a 4-1 W.
Dec. 27, 2019
Bieber was home for the holidays when he hit the ice in his hometown of Stratford, Ontario with Matthews, Marner, and Barrie for a game of shinny alongside his childhood buddies. The singer blew up his Instagram feed, posting multiple photos and videos of the event. Although plenty Leafs detractors expressed dismay over the coverage, there was one person who was more than a little jealous to have not gotten an invite. Drake jokingly expressed his displeasure at not being asked to lace up with Bieber and the Leafs, sharing his own Insta Story in which he digitally inserted a childhood pic of himself in the viral group selfie (ultimately covering up Barrie's face in the process. Ouch).

Jan. 4, 2020
Clearly enjoying an extended holiday vacation in his home and native land, Bieber was on hand for the Leafs' commanding 3-0 win over the New York Islanders. Sharing a private box with Matthews' parents, the star also took photos with fans sitting nearby. Having just released his new single, "Yummy," the star was able to kick back and enjoy watching the blue and white blank the Isles.
During the same night the Buds posted that big V, Leafs Nation was treated to this charming video of Bieber patiently waiting for Matthews to get off the ice for hug. Whether you're a fan of Bieber or not, that embrace was all kinds of wholesome charm.

Although it's unlikely that Bieber will ever boast the same team access that Drake does as the MLSE-appointed global ambassador for the Raptors, this is less a case of promoting a team on an international stage and more about genuine bonds. At the end of day, he's living every hockey fan's dream of becoming besties with their favourite player. Who doesn't love a good celeb stan?
Apr. 5, 2020
With both the sports and entertainment worlds on an indefinite pause as the globe works together to flatten the curve of coronavirus, Biebs and Matthews gifted hockey and music with some much-needed feel-good content. The Buds' superstar—who was on pace to surpass 50 goals and possibly nab the Maurice Richard Trophy before the NHL postponed its season—joined the chart-topping singer's Instagram Live for a chill Q&A which, naturally, included a reference to Matthews' 'stache.