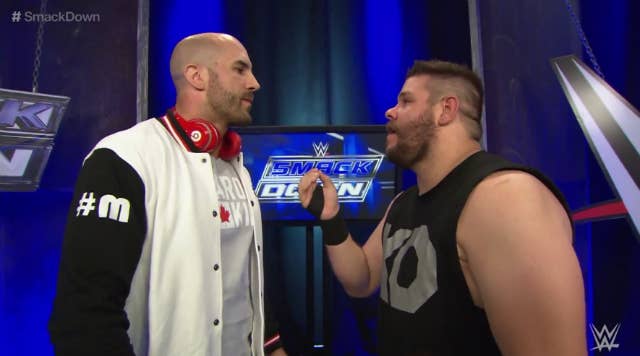 Can this week's edition of WWE Smackdown top a Raw that featured a great Sasha Banks vs. Paige match AND John Cena getting his nose broken by a wild knee from Seth Rollins? Probably not, but the show must indeed go on.
This week's Smackdown hails from Tulsa, Oklahoma, and yes, Jack Swagger is in the building. Here are the spoilers for those who have something more important to do this Thursday:
Seth Rollins opened the show with an interview bragging about breaking John Cena's nose. He's interrupted by Cesaro, who challenges Rollins to a match.
Seth Rollins vs. Cesaro ends in a no-contest as Kevin Owens, who was on commentary, interfered, causing Owens and Rollins to beat down Cesaro.
The Los Matadores and The Lucha Dragons beat The New Day and The Ascension in an eight-man tag match.
An announcement was made that Rollins and Owens would battle Cesaro and a partner of his choosing as the main event.
Rusev and Summer Rae continued to talk sh*t on Lana and Dolph Ziggler. If you missed Rusev and Lana destroying Lana and Dolph Ziggler from Raw, you need to see it.
Rusev beat Jack Swagger with the Accolade.
Stardust beat R-Truth. Neville attacked Stardust as he was giving a promo after the match.
Cesaro​ and Dean Ambrose defeat Kevin Owens, with Cesaro scoring a roll-up pin on Owens.
So, yeah...that happened. Two weeks in a row of Owens and Cesaro beef building should mean that when they do get their official one-on-one (hopefully they can save it for SummerSlam), it'll be a treat.
[via F4W]
Send all complaints, compliments, and tips to sportstips@complex.com.​