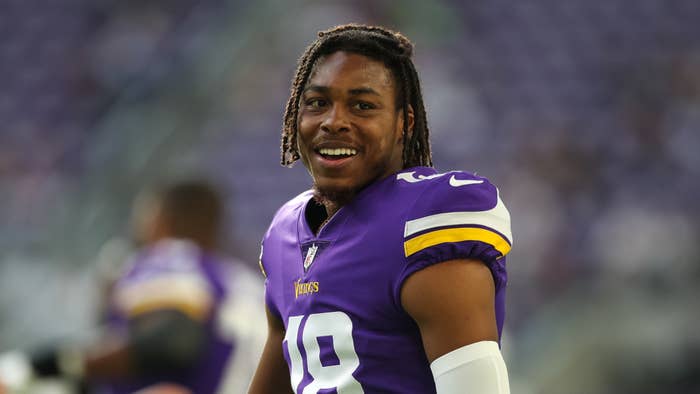 The term "generational" can be misused often in today's society, where everybody wants to make a bold declaration about something, especially when it comes to sports. But it's hard to argue against that word being used as the perfect adjective to describe Minnesota Vikings wide receiver Justin Jefferson after his first two electrifying seasons in the NFL.
The 23 year-old All-Pro wideout has rewritten the NFL record books since his arrival in the NFL, already totaling 196 receptions, 3016 receiving yards, and 17 touchdowns through just two seasons played. The yardage total is the most ever for a wide receiver through their first two seasons in NFL history.  And there doesn't appear to be any slowing down in sight for a player who is just as hungry as he was when he was a two-star recruit coming out of Destrehan, Louisiana.
"I'm just trying to be up with those greats, trying to be next to them in the Hall of Fame," Jefferson says. " I didn't expect to be on top of the league this soon, but all of the hard work I've done and all of the things that I've sacrificed in my career and in my life to make myself this type of player, it's definitely a blessing to have all of these things come to me so soon."
Jefferson sat down with Complex to discuss his upcoming hat collaboration with Lids, his meteoric rise to stardom in the NFL, his relationship with Odell Beckham Jr., the 2019 LSU national championship team and much more.
(This interview has been edited and condensed for clarity.)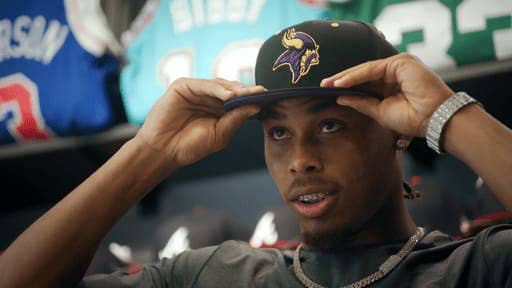 Can you explain this partnership with Lids, and what it is about this company that you wanted to align with?
Definitely always dreamt of partnering up with Lids, definitely had those memories of being a younger kid going into Lids with me and my older brothers trying to pick out different hats and different styles to go with our outfits. So it's definitely exciting to be partnering up with them and to see what we got in store for the future.
You're debuting 11 custom embroidery hat designs, can you speak about those? Is fashion something that you are into personally & do you view it as a form of self-expression?
To touch upon the different designs that I have, I definitely have memorable moments, just different things that I love. Different logos, and different other creative things going up on the hat. We made 11 of them, all 11 are creative and signature to me, so those are very special to me. As for fashion, hats have always been part of my fashion. Hats go a long way towards adding a touch to your outfit, different colors and different designs. I'm definitely a fan of hats and y'all definitely going to be seeing me wear way more hats this year. 
Speaking of personal items on the hats, can you speak to any of the personal logos that are going to be on them?
I have me and my jet chain. Me throwing up the B's of course, me griddy-ing, a flying jet like my chain. We have my logo, JJ, we have so many different things. I'm excited for everybody to see what all I picked out and what all we created. 
It goes without saying, you have pretty much set the league on fire your first two years in the league. When you look at some of the records you have broken already, what comes to mind when you see your name mentioned next to some of the greatest wide receivers to ever play?
Legendary. I'm just trying to be up with those greats, trying to be next to them in the Hall of Fame. I didn't expect to be on top of the league this soon, but all of the hard work I've done and all of the things that I've sacrificed in my career and in my life to make myself this type of player, it's definitely a blessing to have all of these things come to me so soon. And hopefully God just keeps blessing me along my career.
You weren't a big time recruit coming out of high school, and although you were a first round pick, there were four wide receivers drafted before you in your draft class. Do you still carry that chip on your shoulder to this day, or do you not even let it bother you?
A little mixture of both. You still have to keep it in the back of your mind that people doubted you and people didn't think that you would be good for their team. But at this point, my stats prove that I'm the best one coming out of that draft of receivers, so I guess you can say I'm pretty much proving my point in my statement that I'm the best receiver in that draft class. I just have to keep going, keep doing more things, keep bettering myself and bettering my craft. 
How do you do that, to keep outdoing yourself? You broke the rookie receiving record your rookie year, then you came back this year with 100 receptions, 1600 yards and 10 touchdowns. How do you keep yourself sharp to keep elevating and even outdo what you've done already?
It's tough, that's my honest answer. It's definitely tough to outdo 1600 yards. It's not normal for people to get that many yards consistently, back-to-back like that. Really just working on my weaknesses that I felt that I had throughout the season, always working on my game. I'm always working on route running, always can work on catching the ball, so just trying to better my craft at all of those different categories. And with this new offense with Coach [Kevin] O'Connell, all of us are excited about this new playbook and hopefully we have a better season this year.
You broke Odell Beckham's rookie receiving yard record, and then Ja'Marr Chase broke your record. What is it about LSU wide receivers, specifically the ones from Louisiana? It seems like you guys come right in the league and set it on fire from day one.
We different animals, we different animals. I don't know what's in the water down in the boot but we got something going on that's different down there. We are just all-time competitors, we all look up to each other, we all try to outdo one another. We all stay in contact, we all are close to one another so we always are having conversations about who is the best but it's a friendly competition. We all love each other, we all love each other's game, and we all are rooting for each other. You know Odell had the record, I had the record and now Ja'Marr has the record, so we all eating and we are going to continue to eat.
It probably goes without saying, but you definitely think LSU is wide receiver U right now?
Yes, 100 percent. We also have Jarvis [Landry], Terrace Marshall, we have other players too. We are on top of the league at this moment, just breaking records and pretty much being top three or top five receivers in the league. So it's kind of hard not to say us.
You spoke of how you all keep contact and have a strong level of support for one another. We have seen how vocal you have been in support of OBJ since coming into the league, and vice versa, even with the handshake after the national championship game. You have worn the free OBJ shirt, can you speak to what that relationship has been like for you coming into the league and how it even got to the point where you two are as close as you are?
Well him just being at LSU with my older brothers, me just being a young kid going to all the different games and seeing him do one-handers, all of this different stuff, I became a fan. Seeing him at different practices, really growing that connection with him, growing that bond with him, over the years of him being there. I ended up looking up to him and idolizing him, especially the plays he made and the type of receiver he was. Then me being at LSU, and us being a brotherhood, we just became really cool and connected, and it was definitely a bond ever since. And ever since I've gotten to the league, he's always been showing me love, I'm always showing him love. It's always going to be that love with us, that's like my big brother.  I always look up to him and ask him about different things, so yeah, our connection grew more and more every year.
That 2019 LSU football team, y'all dominated the NCAA but you all are also dominating the NFL right now. What is it about that team that was so special, and do you think its' the best team ever in college football?
Definitely the best team ever in college football. We went undefeated, Joe [Burrow] won the Heisman, Ja'Marr won the Biletnikoff, we had coach of the year, Jim Thorpe went to Grant [Delpit]. It was just so many different things that went our way that year, and we all bought into the process. We were all there for two or three years, so we always had those type of players there to put us over the top. Then Joe Brady came in that 2019 season and changed the whole offense and we went crazy. It was definitely a fun year that whole year, how we went crazy and turned that around and went undefeated like that. I felt like we always had those players, we just had to get into that right system, and of course, we had one of the best quarterbacks to play.
What was it like winning that national championship down in New Orleans in front of all the LSU fans?
It was crazy, it was honestly a movie. Just being in the SuperDome, somewhere we always dreamed of playing and being in the national championship for LSU, it was crazy. I'm getting goosebumps thinking about it. Having all of the celebrities on the sideline for the game, and then us, of course winning it and the confetti coming down. It was all crazy, it was a movie for real.
Now, you're in Minnesota of course, but on the NBA side there is Anthony Edwards as well. Minnesota hasn't really had two young and dynamic stars like this at the same time since Randy Moss and Kevin Garnett, how does it feel in the state right now with both of you two going crazy like this? Do you two have any type of relationship?
We don't have a close relationship like that. Of course down the line, we probably are going to build a relationship. But me going to some of his games, he's definitely crazy athletic, I definitely love his game and what he brings to the table for Minnesota. I've definitely seen him at our games a couple of times too, so I'm pretty sure our connection is going to grow too down the line. But it's definitely crazy how both of us are going crazy at the same time, and it's so much love around Minnesota.
Do you think you are the best receiver in the NFL, and if so, why?
I'll say after this year I'll be the best receiver in the NFL. I definitely have to give it to Davante Adams as of now, him being so crazy and dynamic on the field. His route running is crazy, so I definitely have to give it to him right now, but I'm pretty sure after this year, it's going to be me. 
What is it about you having to wait until after your third year to call yourself the best? You feel like you have to do it three years in a row?
I think I have to do it three years in a row for everybody to believe so. Some people don't think that after two years you deserve to be at the top of the league. And then me, I feel like I'm going to surpass 1600 yards too. So I think that I'll become the best receiver after this year.