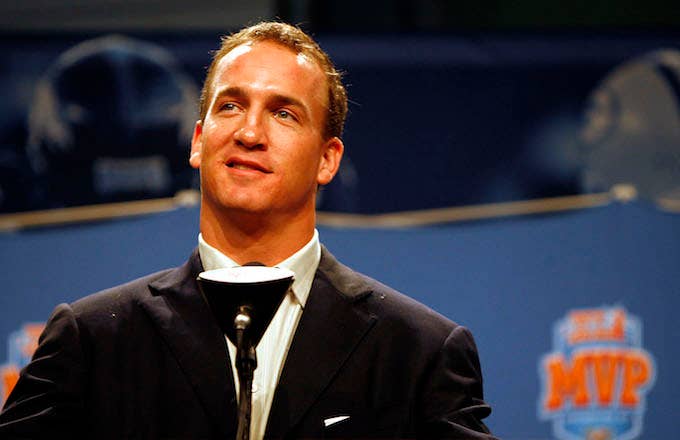 Believe it or not, one of the biggest sources of drama for the NFL is pizza (but also, same.)
Papa John's used to be the official pizza sponsor of the NFL but lost that important privilege after its former CEO, John Schnatter, suggested that a drop in company sales was because football players were exercising their right to protest the unfair treatment of black people in their country, a move that made his pizza the preferred flavor of the alt-right and white supremacists. This clearly misguided and pretty racist assumption led Schnatter to step down; recently, the NFL dropped Papa John's as its sponsor and switched over to Pizza Hut.
It looks like the bad news just keeps coming for Papa John's: theDenver Postreports that Peyton Manning, former Broncos quarterback, sold off his stake in 31 Denver area Papa John's locations just two days before the NFL dropped the pizza chain as its sponsor. It's an interesting move for a guy who literally kissed Schnatter when he won the Super Bowl with the Broncos back in 2016.
When Manning first signed with the Broncos in 2012, he also acquired 31 Denver Papa John's franchises as part of a joint venture with Papa John's International. A spokesperson confirmed to the Post that Manning had sold his stake after "six successful and rewarding years." The stores have been acquired from another existing Papa John's franchisee.
Manning will, however, continue to work with the pizza chain. He has a long-term contract with the franchise that includes him being the brand's celebrity spokesman and brand ambassador.
According to the New York Daily News, Papa John's still has marketing deals with 22 of the 32 NFL teams.