ESPN's Michael Smith Leaves 'SportsCenter' Just One Month After Jemele Hill's Exit
Jemele Hill left 'SportsCenter' in January, and Michael Smith's last day as host will be March 9.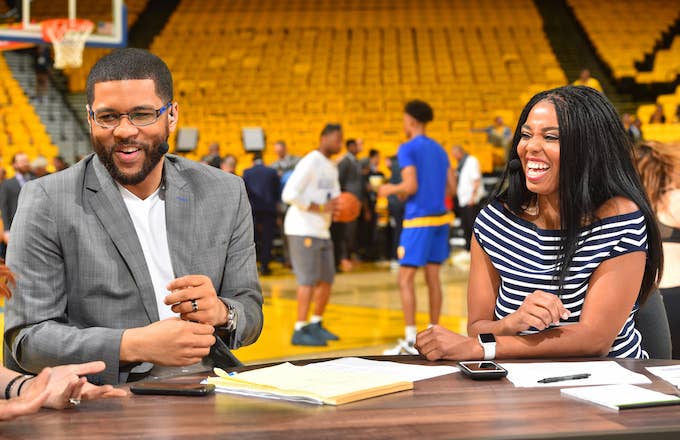 Getty
Image via Getty/Jesse D. Garrabrant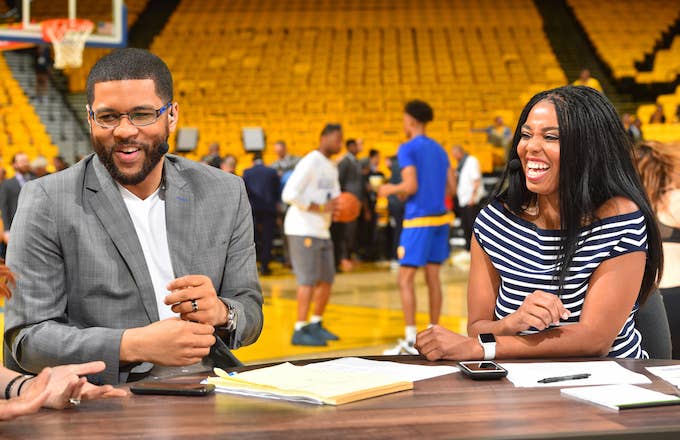 Michael Smith will leave his role as ESPN's SportsCenter 6 p.m. ET host, and his last day will be this Friday, March 9. Smith's departure comes just over a month after his former co-host, Jemele Hill, leftSportsCenter to join ESPN website The Undefeated. Although Smith has yet to announce where he will end up after leaving SportsCenter, Sports Illustrated reports that he (like Hill) still has multiple years left on his ESPN contract, so it's more than likely that he'll stay within the brand in some capacity. New York Post reporter Andrew Marchand reports that the most likely replacements for Hill and Smith will be Sage Steele and John Anderson, who currently host SportsCenter at night.
As

@sportsrapport

tweeted, I was told last week that Sage Steele and John Anderson were favorites to be new 6 pm SportsCenter team. As

@richarddeitsch

reported, Michael Smith will no longer do SC. This was a when, not if, situation.
Smith and Hill were both introduced as the new hosts of a revamped SportsCenter in early 2017. Per a press release, Smith and Hill's SportsCenter would include a "deliberate and well-paced conversational format in which they discuss sports topics, news, culture and social issues."
"I'm most excited for the viewers to see how much freedom we are going to have," Smith said at the time.
Hill left SportsCenter in late January after she sharply criticized the President and his administration multiple times in an apparent violation of ESPN's social media policy. In September, she called Donald Trump a "white supremacist who has largely surrounded himself with other white supremacists" in a fiery tweetstorm that resulted in Trump himself calling for her to be fired.
Hill stayed at ESPN, but a few weeks later, she violated the rules again for appearing to encourage her Twitter followers to boycott advertisers who work with the Dallas Cowboys after the team's owner, Jerry Jones, said he would bench any players who kneel during the national anthem in a sign of protest. She was hit with a two-week suspension in October for this violation. Hill admitted that she put "ESPN in a bad spot" but did not regret or take back what she said. After she left SportsCenter, Hill said she had wanted to get back into reporting and added that the ESPN show just wasn't built for her.
In September of last year, ESPN Executive Vice President Norby Williamson took control of the SportsCenter franchise and immediately instituted changes to the show that affected how Hill and Smith did their jobs. He himself admitted that there was "probably an element of truth" to claims that Hill left the show at least in part because of the changes he implemented. In February, Smith more or less confirmed that this was the case on James Andrew Miller's Originspodcast.
"Immediately we started pushing the panic button. Instead of saying 'no, this is the vision for this show, this is what we're doing. This show is about Michael and Jemele and their opinions and their chemistry, and they're going to do SportsCenter their way,'" Smith said. "Instead of sticking to that vision, we immediately tried to merge two things."
"It was very frustrating," he added. "Behind the scenes and on camera. They got what they wanted, which was Michael and Jemele being muted. And that frustrated the sh*t out of us."\"
"Michael is a talented commentator, and we greatly appreciate and value his contributions and creativity. We are in the process of discussing with him potential next ESPN assignments," Williamson said in a statement. "Permanent anchors for the 6 p.m. SportsCenter will be determined and announced at a later date. In the interim, the program will be hosted by a variety of anchors from the SportsCenter team."