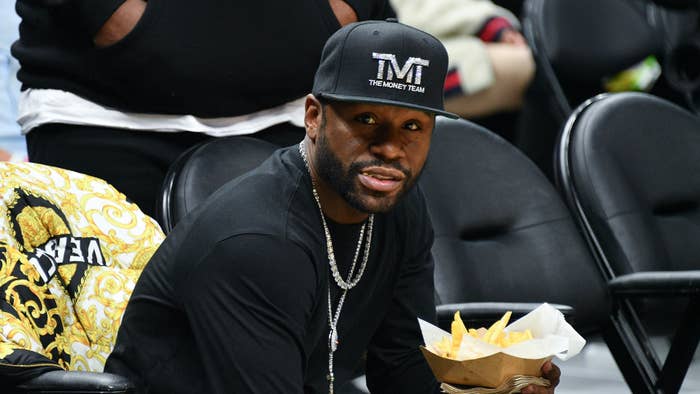 UPDATED 7/27, at 4:45 p.m. ET: Floyd Mayweather has clarified his statements about 2Pac's fatal shooting.
"In 1996 when Tupac Shakur was killed, I lived in the Meridian Apartments located on Flamingo and Koval Ln., which just so happens to be the area where Tupac was shot," he wrote on Instagram. "I have never said I witnessed the shooting. All of these false accusations stem from me sharing the location of the shooting with John Singleton due to my familiarity of the area since I lived there. This does not mean I witnessed Tupac's shooting."
He continued: "John Singleton was making a documentary or movie about Tupac, so he reached out to me asking where Flamingo and Koval Ln was located. John's was my friend, so I showed him this location with no hesitation. The location of Tupac's shooting is public knowledge and me living near there was just a coincidence. I did not witness Tupac Shakur's death."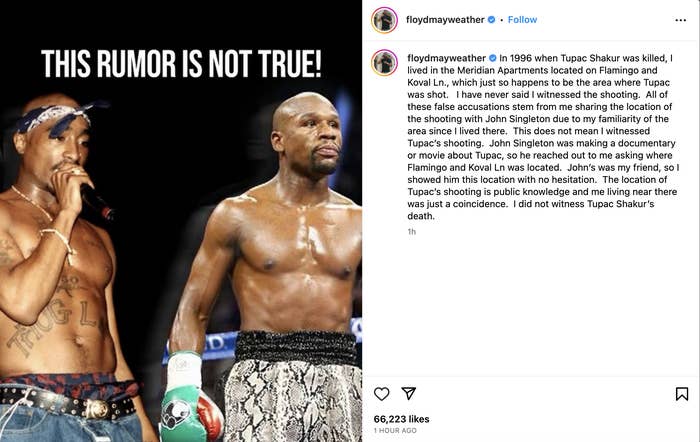 See the original story below.
Floyd Mayweather says he was living near the site of one of hip-hop's most notorious murders.
In an unearthed video from 2014, the retired boxing legend is seen standing at the Las Vegas intersection where 2Pac was shot nearly 27 years ago. The West Coast rapper was wounded in a drive-by shooting when the vehicle he was riding in stopped at East Flamingo Road and Koval Lane near the MGM Grand.
"The car pulled right here and shot Tupac at this light," Floyd said in the clip. "The car went that way. 'I was living right here [gesturing across the street] in 1996 when Tupac got killed. I ain't ever told nobody. Only the closest people with me know."
As pointed out by HipHopDX, the footage featured the late filmmaker John Singleton, who worked with 2Pac on 1993's Poetic Justice. Mayweather and Singleton — who died in 2019 at age 51 — revisited 2Pac's shooting site in April 2014. The latter documented the meet-up via Instagram.
"With Floyd Mayweather in Vegas at the intersection where Tupac was killed," the director captioned a photo of him and the boxer. "Spiritual moment. Start of new journeys."
Mayweather, who would've been 19 at the time of 2Pac's death, would make his professional boxing debut about a month after 2Pac was gunned down. The rapper was wounded multiple times on Sept. 7, 1996, and died six days later in the intensive-care unit. No arrests have ever been made in the case.
Mayweather's comments resurfaced just days after Nevada police searched a home in connection to 2Pac's unsolved murder. However, the Las Vegas Metropolitan Police Department did not provide any information who what led to the search or who owned the residence.
"LVMPD can confirm a search warrant was served in Henderson, Nevada on July 17, 2023, as part of the ongoing Tupac Shakur homicide investigation," Las Vegas Police said in a statement, per ABC 7. We will have no further comment at this time."