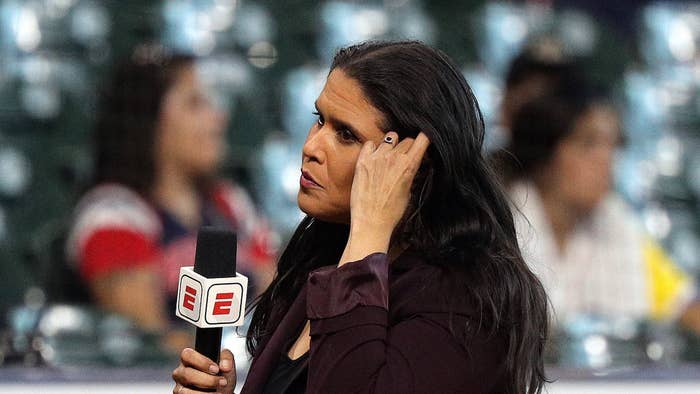 ESPN has cut ties with national baseball reporter Marly Rivera after she used obscene language during a tense exchange with a female colleague.
According to the New York Post, the incident took place on April 18 ahead of the New York Yankees vs. Los Angeles Angels game in the Bronx. Rivera told the outlet she had scheduled some time to speak with Yankees right fielder Aaron Judge, but was unable to do so because of an on-field dispute with freelance sports reporter Ivón Gaete. Rivera claimed she had informed Gaete about her exclusive interview with Judge, but Gaete allegedly ignored her comments and tried to get a few words from the AL MVP.
Cameras captured a portion of the confrontation, which showed a frustrated Rivera calling Gaete a "fucking c**t." The video showed Judge just a few feet away as he signed autographs for fans
The Post reported Rivera tried apologizing shortly after, but Gaete—who is also the wife of MLB Vice President of Communications, John Blundell—wasn't interested.
"There were extenuating circumstances but that in no way is an excuse for my actions," Rivera said in a statement to the newspaper. "I am a professional with a sterling reputation across baseball and I do believe that I am being singled out by a group of individuals with whom I have a long history of professional disagreements."
ESPN confirmed Rivera was terminated earlier this week, and its team is investigating the incident.