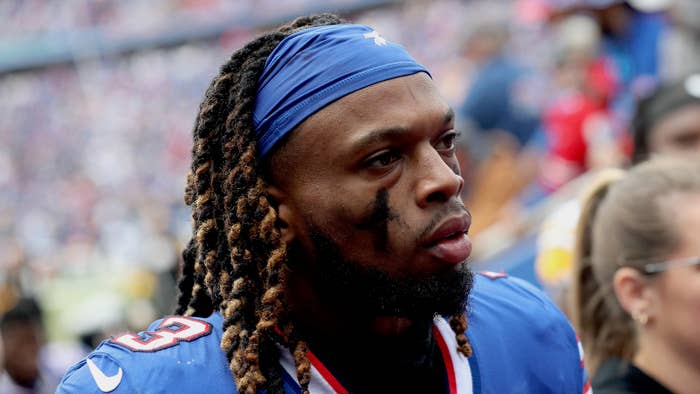 Damar Hamlin shared a video Saturday, thanking everyone who has supported him throughout his recovery process.
The post came less than a month after the Buffalo Bills safety suffered cardiac arrest during a matchup with the Cincinnati Bengals. The video also marked Hamlin's first time speaking on camera since the in-game collapse. 
"I can't tell you how appreciative I am of all the love, all the support, and everything that's just been coming my way," he said in the nearly six-minute video. "What happened to me on Monday Night Football I feel is a direct example of God using me as a vessel to share my passion and my love directly from my heart with the entire world, and I'm now able to give it back to kids and communities all across the world, who need it the most. And that's always been my dream."
The video came amid online conspiracy theories that Hamlin had died after he collapsed in early January. The rumors surged after the 24-year-old attended the Bills' Jan. 22 playoff game, donning a hood over his head and a partial face mask. Some were convinced that the man in the videos wasn't Hamlin, but rather "clone" or "body-double" intended to provide cover for the NFL.
Hamlin poked fun at the bizarre theories in a Jan. 23 tweet that read: "clone."
So why did he wait so long to speak publicly? Because he simply needed time.
"It was a lot to process within my own self—mentally, physically, even spiritually. It's just been a lot to process ..." he explained. "While I'm so thankful to everybody, I know that it isn't enough just to be thankful. This is just the beginning of the impact that I wanted to have on the world, and with God's guidance I will continue to do wonderful and great things."
He continued: "I couldn't do this without any of the support and the love, and I can't wait to continue to take y'all on this journey with me."
You can check out the full video below.