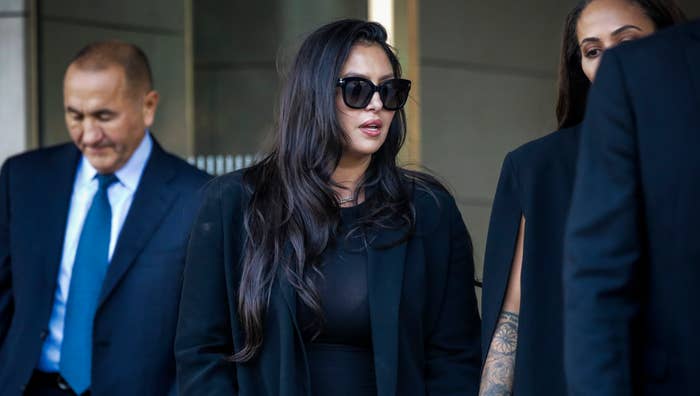 UPDATED 8/25, 7:25 p.m. ET:TMZ has learned that Vanessa Bryant will donate the $16 million she was awarded on Wednesday to the Mamba & Mambacita Sports Foundation. 
Established in 2016, the nonprofit was originally called the Mamba Sports Foundation after Kobe's Black Mamba moniker. The name was changed in 2020 following the death of the Los Angeles Lakers legend and his daughter Gianna in a helicopter crash. The Mamba & Mambacita Sports Foundation aims to help underserved athletes, as well as boys and girls in sports. 
"From the beginning, Vanessa Bryant has sought only accountability, but our legal system does not permit her to force better policies, more training or officer discipline," Bryant's attorney Luis Li said in a statement. "Those measures are the responsibility of the sheriff's and fire departments—responsibilities that Mrs. Bryant's efforts have exposed as woefully deficient, even giving amnesty to the wrongdoers." 
See original story below. 
A jury has ruled in favor of Vanessa Bryant in her lawsuit against the Los Angeles County Sheriff's Department and L.A. County Fire Department over alleged graphic photos from the site of the tragic helicopter crash that claimed the lives of Kobe Bryant, their 13-year-old daughter Gianna, and six more people in January 2020.
TMZ reports Bryant has been awarded $16 million. Chris Chester, who lost his wife Sarah and 13-year-old daughter Payton in the crash, will also receive $15 million. 
Bryant said in her suit that she has "suffered and will continue to suffer severe emotional distress" over the photos that were taken from the site, and lives in fear that someday those images will be shared publicly. As mentioned by ESPN, the verdict was reached on Kobe Bryant Day in L.A., a date that was chosen as an homage to the two numbers (No. 8 and 24) Kobe wore during his two decades with the Lakers. 
Vanessa filed the lawsuit in September 2020, accusing L.A. County authorities of negligence, privacy invasion, and the intentional infliction of emotional distress. Court documents allege these images were passed around on at least 28 devices belonging to members of the L.A. County Sheriff's Department. A number of "close-up" photos were obtained by a dozen county firefighters, and one of them shared these images at a broadcast journalist gala in 2020. 
Los Angeles County attempted to have Bryant take a psychiatric exam on the grounds that her emotional distress argument was tied to the crash itself, and not the alleged photos. In January, a judge denied the county's request to dismiss the lawsuit because there was already enough evidence to move forward with a trial.
According to ESPN, Bryant's attorneys never provided a dollar amount to their request in damages, but Chester's attorney Jerry Jackson attached tens of millions for each plaintiff. 
"Grateful to a jury and judge that gave us a fair trial," Jackson told TMZ.