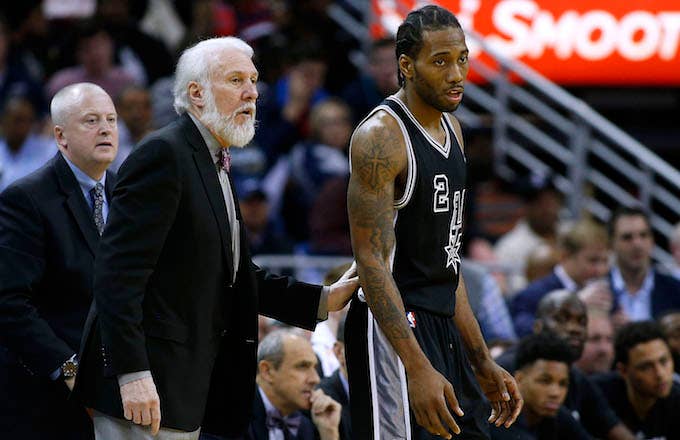 Following their first practice after the All-Star Game, San Antonio Spurs head coach Gregg Popovich admitted to reporters that he doesn't expect to see Kawhi Leonard play again this season.
"I'll be surprised if he returns this season," Popovich said, perESPN. "Well, we only have X number of games left in the season, and he's still not ready to go. If by some chance he is, it's gonna be pretty late into the season. And it's going to be a pretty tough decision: How late to bring somebody back? So that's why I'm just trying to be honest and logical." Leonard has missed all but nine games this season as he dealt with a lingering quad injury.
The loss of Leonard will be a detrimental blow for a Spurs team that has been treading water in the Western Conference with the expectation that their cornerstone player would return at some point in the season. The Spurs are currently tied with the Minnesota Timberwolves for third place in the conference, but a string of losses could push them out of playoff contention since only three games separate them from the eighth-place New Orleans Pelicans. 
The Spurs are a losing streak away from dipping out of the playoffs. Luckily, they have arguably the best coach in the league to guide them through life without Kawhi.