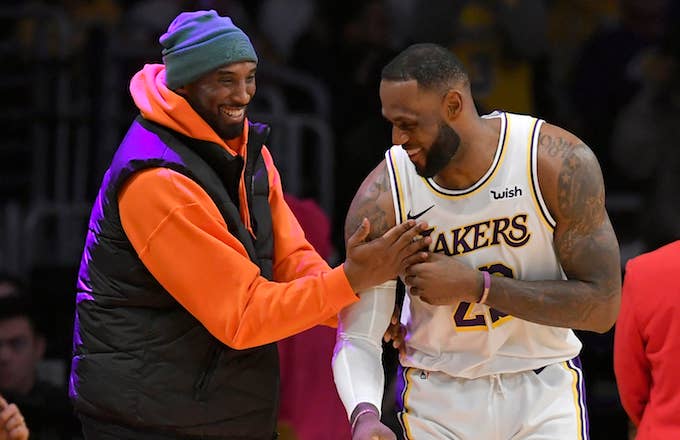 UPDATED 1/31, 7:30 p.m. ET: LeBron James took to Instagram on Friday night to show off his new body art dedicated to Kobe Bryant.
The first slide in the post was a photo of the two athletes sitting side-by-side; the second was a close-up shot on James' tattoo, which featured a black mamba snake wrapped around Bryant's NBA numbers: 8 and 24. Written beneath the snake was the phrase "Mamba 4 Life."
Check out the tribute piece below.
See the original story below.
The Los Angeles Lakers will not play in the Staples Center until tomorrow, but when they do, it looks like LeBron James will be sporting a new tattoo in honor of the Black Mamba. 
James shared on his Instagram Live that he was in the process of getting some ink in what appears to be the form of a black mamba snake. 
It appears Anthony Davis was with James getting some ink of his own, but like his Lakers teammate, it's difficult to make out what he was getting done.  
TMZ took some photos of LeBron's new tattoo which is still under wraps, but it may finally get its grand reveal tomorrow in the house that Kobe Bryant built. However, TMZ believes that James will not wait until then, and instead, post a photo of the tat on his Instagram beforehand. 
Since Bryant's tragic passing, James, Davis, and the rest of the Lakers' players haven't spoken to the media with their head coach Frank Vogel telling reporters on Wednesday that he has advised them to "speak when you're ready and not before." Many Lakers players have resorted to sharing their thoughts on Instagram in the meantime. 
The Lakers will play their first game since the death of Kobe and his 13-year-old daughter Gianna when the Portland Trail Blazers come into town Friday.