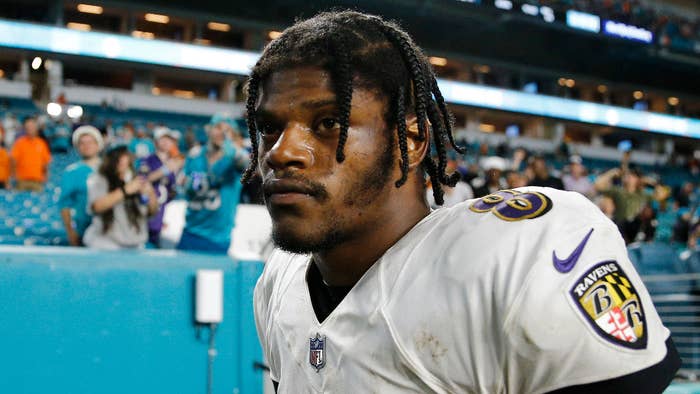 UPDATED 9/9/22, 11:45 a.m. ET: Lamar Jackson and the Baltimore Ravens could not agree on terms for the star quarterback's contract extension ahead of the 2022 NFL season.
According to ESPN's Adam Schefter, Lamar turned down the Ravens' latest offer, which means he will play this season without a long-term contract.
"Despite best efforts on both sides, we were unable to reach a contract extension with Lamar Jackson," Ravens general manager Eric DeCosta said in a statement. "We greatly appreciate how he has handled this process and we are excited about our team with Lamar leading the way. We will continue to work towards a long-term contract after the season, but for now we are looking forward to a successful 2022 campaign."
See original story below.
The Baltimore Ravens have until Friday to reach an agreement with Lamar Jackson on a contract extension. 
"As of right now, you know, we're still talking. You know, the week's not over yet, but soon. Soon, probably be a deadline. Probably be cut off after this week," Jackson told reporters on Wednesday.
ESPN's Adam Schefter reported earlier today that Friday is the last day Jackson and the Ravens will discuss a new deal. 
With the Ravens set to kick off the 2022 season against the New York Jets on Sunday, Jackson would likely want to focus his attention on his performance on the field since he does not have an agent. According to CBS Sports NFL insider Jonathan Jones, the 2019 league MVP has been approached by agents looking to represent him, but repeatedly declined their services. 
With a number of NFL quarterbacks signing lucrative deals over the past several months, Jackson has been given a benchmark as to what he believes his extension should be. Aaron Rodgerssigned a three-year deal in March with the Green Bay Packers worth $150 million, with nearly $75 million guaranteed. Kyler Murrayinked a $230.5M extension over five years with the Arizona Cardinals in July, which includes at least $105M guaranteed. 
Russell Wilson was the latest star quarterback to sign a new deal, coming to terms on a five-year extension with the Denver Broncos last week worth $245 million with $165M guaranteed. 
According to Jones, the total amount of guaranteed money appears to be the biggest point of contention between both sides.  
Jackson is entering the fifth and final year of his rookie deal. He was taken with the 32nd overall pick in the 2018 NFL Draft.