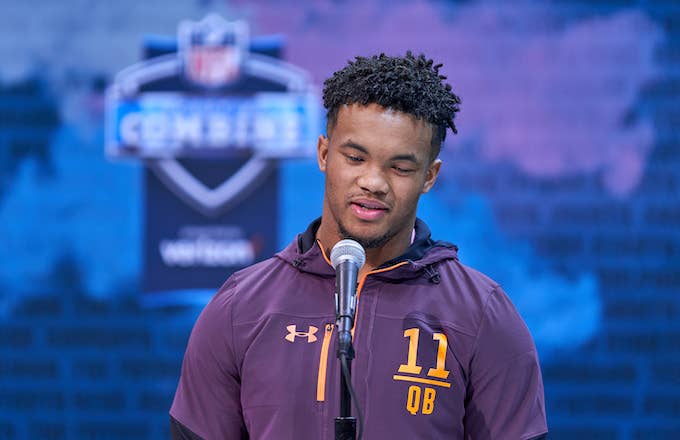 NFL Network analyst and former NFL general manager Charley Casserly was quite critical of Oklahoma quarterback Kyler Murray in the wake of a reported disappointing showing at the Combine. "Leadership? Not good. Study habits? Not good. The board work? Below not good," Casserly said, perYahoo Sports. "Not good at all in any of those areas and raising major concerns about what this guy is going to do."
Casserly's remarks didn't sit well with Murray's agent Erik Burkhardt, who eviscerated the NFL Network analyst with some deep-cutting return fire. "My initial reaction was to laugh because I knew the 'old guard' would inevitably try to come up with the usual pre-draft nonsense," Burkhardt toldPFT. "But when I later watched this man say what he did, it was over-the-top and definitely felt personal, and that's when I got pissed off."
After building up Murray's personal character and his accomplishments, which include being "the first human ever drafted in the top 10 in two major sports leagues," Burkhardt turned his focus on Casserly.
"The bottom line here is that it calls into question the motives of a man to get on national television and cite anonymous sources on things such as 'leadership' and 'study habits' about somebody he's never met," Burkhardt said. "Look, if you don't like Kyler's game, it's cool. If you don't like his size and want to talk about that, that's fine, too. If you're into a Heath Shuler-type looking guy, then hype those guys and say why." 
Heath Shuler was a Tennessee quarterback taken with the third overall pick in the 1994 by Washington when Casserly was the team's general manager. Shuler ultimately proved to be one of the biggest busts in NFL draft history. 
"But when you slander the character and work ethic of a young man who's worked his ass off his entire life and done everything right to put himself in his current position, you'd better cite your sources and come with a better record than 18-46 as a G.M. of the Texans, and whose own leadership and accountability has been questioned by his old bosses and colleagues, as well as the greatest coach on the planet," Burkhardt continued. 
Casserly left Washington to take over as general manager of the expansion team Houston Texans. As Burkhardt points out, his tenure with the Texans was far from a success, judging from his 18-46 record with the team before leaving the organization. Burkhardt also questioned Casserly's accountability by referencing a comment made by New England Patriots head coach Bill Belichick in response to the analyst's claim that Tom Brady was once playing with three broken ribs. 
"Who's been wrong more than Charley Casserly since he left the Redskins?," Belichick said, per ESPN. "His percentage is like a meteorologist."