Jaguars Coach Doug Marrone Explains Why He Hasn't Watched a Super Bowl in Decades: 'I Can't Handle It'
It's been a while since Doug Marrone has watched a Super Bowl.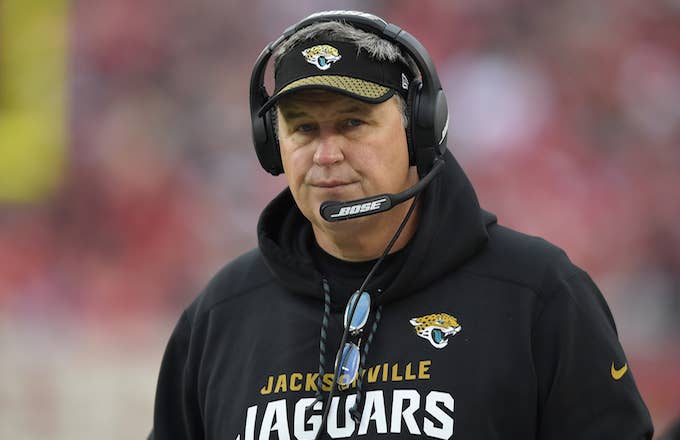 Getty
SANTA CLARA, CA - DECEMBER 24: Head coach Doug Marrone of the Jacksonville Jaguars looks on from the sidelines against the San Francisco 49ers during an NFL football game at Levi's Stadium on December 24, 2017 in Santa Clara, California. (Photo by Thearon W. Henderson/Getty Images)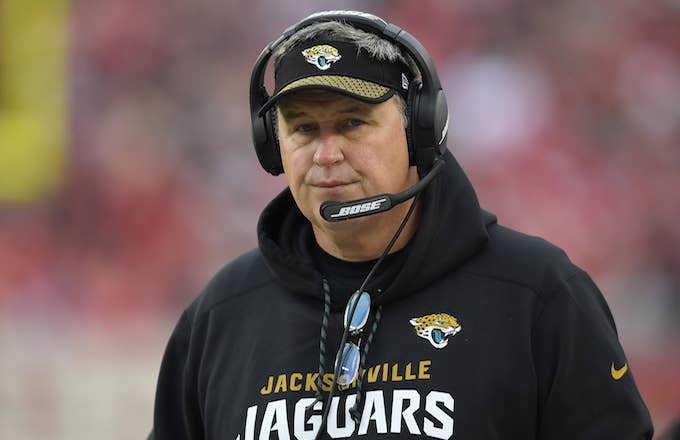 It's been a while since Jacksonville Jaguars head coach Doug Marrone saw a Super Bowl game. A long while.
Marrone, while on a call with New England media, revealed that he hasn't watched a Super Bowl since he started coaching because he doesn't want to be reminded how he was unsuccessful in his pursuit of a title. "When you aspire to go there, and you're not there, I just don't want to go through the whole season again in my mind, and not being there," he said, perESPN. "... I'm usually so pissed off, I can't handle it."
With the Jaguars set to take on the New England Patriots this Sunday in a rematch from last season's AFC Championship Game, Marrone has been left to assume that members of his coaching staff saw how the Philadelphia Eagles exploited the Patriots' weaknesses in Super Bowl LII. "I think our defensive and offensive coaches obviously have watched it," he said. When asked when was the last time he remembers seeing a Super Bowl contest, he responded, "Probably when I wasn't coaching and I was allowed to gamble [...] Probably when I was like 12—when I had a little money on it."  
Marrone's commitment to avoiding watching Super Bowls also created quite the awkward situation when Tom Coughlin, the Jaguars' executive vice president of football operations, asked him if he saw either one of his victories in 2008 or 2012 when he was coaching the New York Giants. He gave him a flat-out "no," but hey, at least he's consistent.