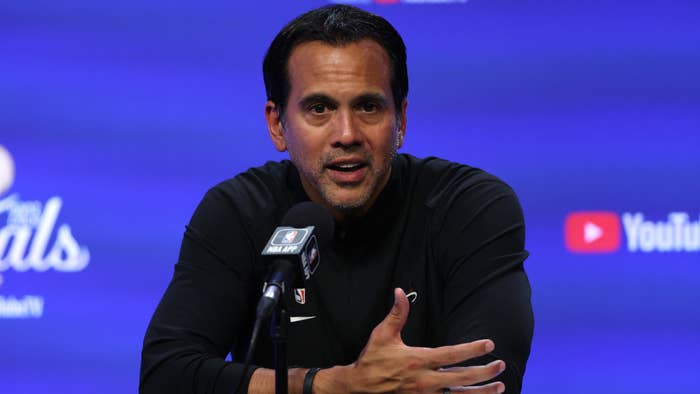 Heat head coach Erik Spoelstra didn't take too kindly to a question from ESPN reporter and senior writer Ramona Shelburne following Miami's 111-108 victory over the Denver Nuggets in Game 2 of the 2023 NBA Finals.
Shelburne prefaced her question by suggesting she's "probably oversimplifying things" before wondering if there's a defensive approach focused on turning Nikola Jokic into a scorer, instead of a passer.
"That's a ridiculous, you know—it's just, that's the untrained eye that says something like that," Spoelstra said. "This guy is an incredible player. Twice in two seasons he's been the best player on this planet. You can't just say, 'Oh, make him a scorer.' That's not how they play, they have so many different actions that just get you compromised. We have to focus on what we do—we try to do things the hard way, and he requires you to do many things the hard way. And he has our full respect."
According to Basketball Reference, Jokic has averaged 30.4 points, 12.9 rebounds and 10.1 assists in 17 games of the 2023 NBA playoffs. The two-time MVP dished out four assists in the Nuggets' loss Sunday night, his lowest total of the postseason.
Since Spoelstra cut her off, Shelburne wasn't able to ask her question in its entirety, but it appears her observation had nothing to do with Jokic being the "best player on this planet" over the last two seasons. Even the untrained eye can reach that conclusion, based on his two league Most Valuable Player trophies.
As the ball-dominant player he is, Jokic puts his teammates in a position to succeed through his vision and passing ability. Michael Porter Jr. and Kentavious Caldwell-Pope, both of whom thrive off catch-and-shoot attempts, shot a combined 3-for-12 from the field and 2-for-9 from beyond the arc in Game 2.
Even though he's capable of creating shots for himself, Jamal Murray also benefits from Jokic's passing, especially out of their two-man game. For a player who has averaged 27 points per game in this year's playoffs, Miami would gladly take Murray scoring 18 points, as he did in Game 2.
Since Jokic is averaging 30 points per game in the playoffs, it's expected that he will get his points on a nightly basis. The Heat can let the Nuggets big man go off on the offensive side of the ball, but they cannot afford to let his teammates do the same.