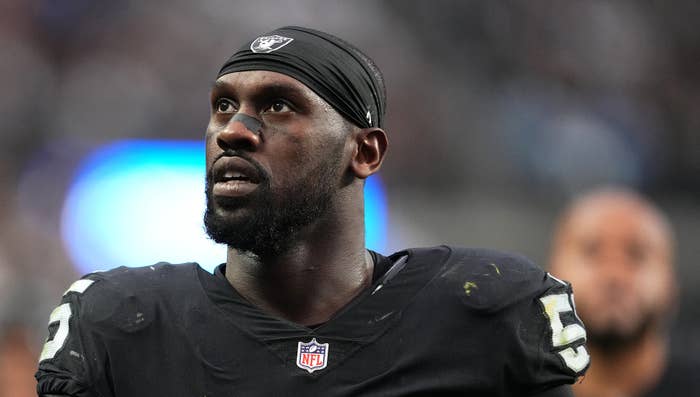 Hours aftering breaking down on social media, Jones was arrested on Thursday morning as reported by TMZ, but the details of the arrest were unknown.
The Las Vegas Raiders have released a statement, hoping for Jones to find the necessary care he needs after the Las Vegas Fire Department reportedly took him to a psychiatric hospital by force to monitor his mental health.
"The Raiders are hopeful that Chandler Jones receives the care that he needs," read the statement. He, his family, and all those involved are in our thoughts. As this is now a legal matter, we will not be providing further comment."
Even though Hernandez's death was ruled a suicide, friend and former teammate Fred Taylor questioned the validity of the report, revealing they spoke over the phone the day before his passing and Hernandez appeared to be in good spirits.
Hernandez's attorney Jose Baez also initially questioned the suicide ruling and later attributed his death to a severe form of CTE. A study conducted by the Chronic Traumatic Encephalopathy Center at Boston University found that Hernandez had stage 3 CTE, which Baez said was "the most severe case they had ever seen" in someone at the age of 27.
According to Sports Illustrated's Patriots Country, Jones accused Raiders head coach Josh McDaniels of killing his "twin" Hernandez in a since-deleted tweet. McDaniels served as an offensive coordinator and quarterbacks coach for the Patriots in what would be Hernandez's final season in the NFL in 2012.
Jones has also called McDaniels a "cokehead" and demanded that the Raiders head coach get "the f**k outta Las Vegas," adding, "This my city."
Jones shared a DM that he received from the NFLPA asking him to call the Director of Player Wellness, but he does not appear to be receptive to the suggestion.
Jones signed a three-year deal with Raiders in 2022, nearly two months after McDaniels was announced as the team's new head coach.