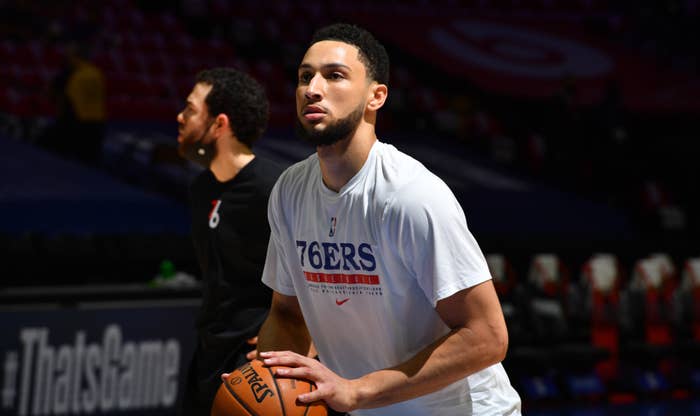 UPDATED 10/21, 5:56 p.m. ET: 76ers GM Daryl Morey appeared on Philly's sports radio station The Fanatic on Thursday, where he addressed the Ben Simmons Saga. 
"Would you rather eliminate what people perceive to be a distraction, or would you rather have better playoff odds?" Morey asked. "I'll take playoff odds...Whatever we have to deal with that helps the Philadelphia 76ers win the title, we'll do it."
Morey remained steadfast over his unwillingness to deal Simmons unless its for an All-Star caliber player. Based on his comments today, he'd rather hold on to Simmons for the remainder of his contract rather than settle for a deal for the sake of it. 
"You're going to think I'm kidding, I'm not. This could (go on for) 4 years. … We're in the prime of Joel's career...Either Ben Simmons is playing for us, or we have to get back a difference maker," he added. 

See original story below. 
Ben Simmons has been suspended for one game after being thrown out of practice by Philadelphia 76ers head coach Doc Rivers, ESPN's Adrian Wojnarowski reports. Simmons has reportedly shown a "reluctance to physically and mentally engage" since his return to the team, per Woj.
Wojnarowski reports Simmons declined several times to sub into a drill before getting tossed from practice. 
The Sixers would only state that the reason for Simmons' suspension was due to "deterimental conduct" to the team, though Sports Illustrated's Chris Mannix reports that it was that aforementioned reluctance to mentally engage that did it. 
"I thought he was a distraction today. I didn't think he wanted to do what everyone else was doing," Rivers said of Simmons, per ESPN's Tim Bontempts. "I'm going to give Ben every chance to be part of the team … as a coach I have to protect the team first." While Joel Embiid didn't want to directly address the latest development in the Simmons/Sixers drama, he said that his primary focus is on the team and getting better. 
According to Shams Charania, Simmons was told to ho home after he twice refused to participate in a drill. 
Joel Embiid was also asked about the incident, but didn't say directly what happened. 
In reference to the Simmons situation, Embiid told reporters "our job is not to babysit somebody." 
He also let it be known that he's done thinking about Simmons. "At this point I don't care about that man," he said. 
Simmons' suspension comes one day after he appeared to reluctantly participate in the team's post-practice huddle before immediately walking off the court.  
Simmons was scheduled to speak with reporters today, but his removal from practice and subsequent suspension prevented that from happening. 
Woj reports that Simmons was fined a total of $1.4M for missing his team's four preseason games. 
He hasn't made a cent of his salary since returning to the team.