Aaron Hernandez's Legal Troubles Won't End With His Death, Expert Explains
Aaron Hernandez's death leaves multiple legal loose ends. But the ruling of suicide and potential of CTE could possibly benefit his estate and victims.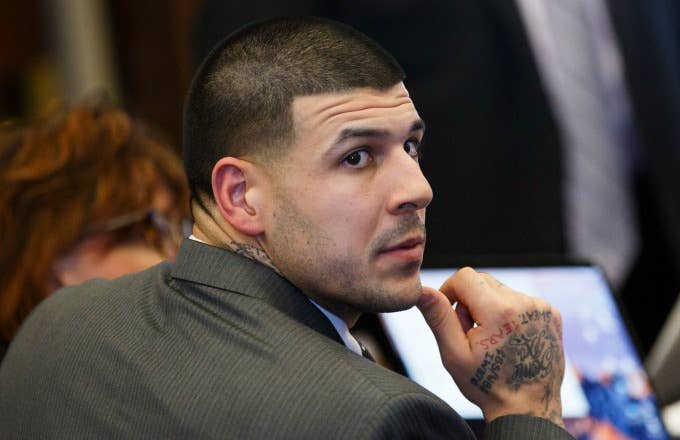 Getty
Image via Getty/Boston Globe/Contributor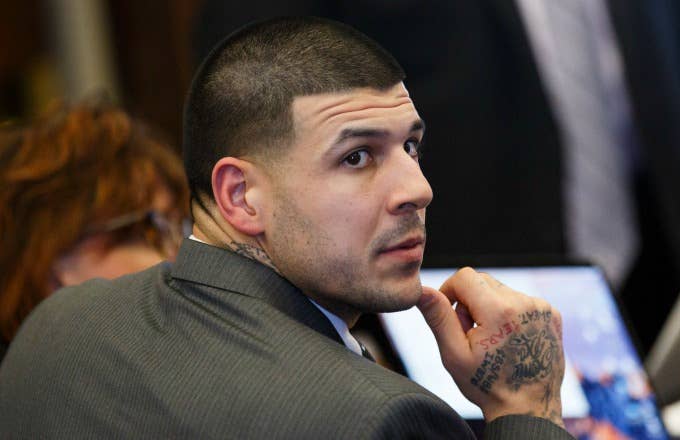 Aaron Hernandez, the infamous former New England Patriot, was found dead in his one-inmate jail cell early in the morning of April 19. Ruled a suicide, it was confounding at best, particularly because Hernandez had just been acquitted on double murder charges and was appealing the 2015 murder conviction. His agent expressed disbelief, tweeting there was "no chance" that Hernandez took his own life. His lawyer echoed this sentiment, suggesting that there may have been foul play at hand.
What Hernandez may or may not have known, is that the timing of his death would complicate aspects of his affairs that could directly impact the finances of the family he left behind. "Abatement ab initio," an obscure aspect of Massachusetts law, mandates that if a person dies before they have exhausted the entirety of the criminal appeals process, their conviction is vacated. Consequently, under the eyes of the law, Hernandez became an innocent man the minute he was pronounced dead. This change in status has led many to speculate on the consequences it would have on his Patriots' contract, as the team had reneged on certain payments after his murder indictment. Some argued that without a criminal conviction on file, his estate may be able to recoup $6 million of his contract that he filed a grievance for in 2013.
In reality, the NFL probably does not owe the Hernandez estate any contractual payments. Regardless of the conviction or charge, it is likely that Hernandez's conduct still places him in breach of his contract. While we don't know the exact terms of his contract, the evidence in the trial that led to his conviction was overwhelming. Additionally, the NFL collective bargaining agreement states that a team can consider certain funds forfeited from players if the player is "unavailable to the team due to conduct by him that results in his incarceration," without any requirement of a conviction or court process.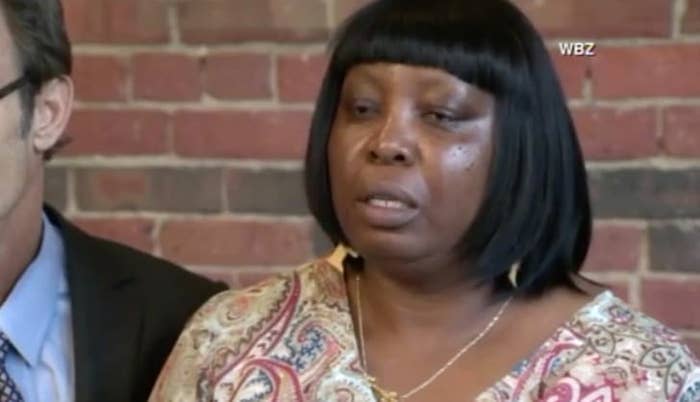 Another interesting caveat is that Hernandez filed a contract "grievance" in 2013 which was settled in 2014 after his indictment and more than likely included some catchall language that would preclude any further litigation on that agreement. Apparently, Douglas Sheff, the lawyer for Ursula Ward, whose son Hernandez was convicted of murdering in 2013, didn't get the memo. On Friday, he gave a press conference with Ward, bizarrely issuing a "friendly challenge" to the NFL to hand the purported $6 million over to the victim's families instead of Hernandez's estate.
Although this plea is likely to be ignored, the lack of a criminal conviction has no bearing on the estate's vulnerability to civil suits. It is likely that these families will file wrongful death lawsuits against the estate, but how much money is actually at stake depends on what kind of money Hernandez was able to hold onto, and also how much his estate is entitled to. While Hernandez has been tied up in legal drama for years, likely draining his savings, his death leaves open several possibilities for financial windfalls. Just one day after he was found dead, Hernandez's brain was taken to Boston University's Chronic Traumatic Encephalopathy Center to be studied for evidence of trauma. A finding of CTE could open the door for legal action, including a wrongful death lawsuit on behalf of the family, or other claims on behalf of the estate.
CTE is a degenerative disease often caused by repeated blows to the head. In recent years, the NFL has been under fire for underplaying the risks associated with concussions and head trauma. Last year the league settled a class-action lawsuit covering over one thousand former NFL players with brain injuries connected to repeated concussions. The $1 billion payout covers existing retirees with specific injuries and intends to provide payouts for 20,000 NFL retirees with these injuries for the next 65 years.
The results of the test on Hernandez's brain bring this issue back to the forefront. His estate will likely not be eligible to opt into the settlement since any diagnosis will come after the April 2015 deadline, but they could still sue the NFL. This won't be easy though; because he was effectively "retired" at the deadline by virtue of being incarcerated for life, the NFL will argue that he missed his chance to opt in to the settlement like all other NFL "retirees" at that time. If Hernandez's estate is able to clear this hurdle, they could be entitled to millions in compensation.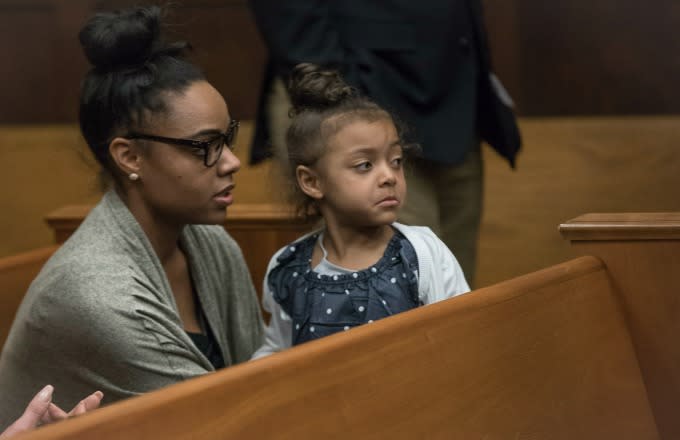 Shayanna Jenkins, Hernandez's fiancée, mother of his 4-year-old daughter, and administrator of his estate, filed legal documents on Friday urging a judge to prevent state officials from destroying video recordings, physical evidence, and prison records connected to Hernandez.
Reports out of a hearing on that order indicated that Hernandez's estate is contemplating suing the prison for "negligent supervision." This lawsuit could result in awards for both Hernandez's estate and his family. This would be significant for Jenkins and their daughter, because money that they recover in their individual capacities will be out of reach from the victim's civil claims.
Hernandez may have left this earth an innocent man, but expect his name to live on in court cases for the foreseeable future.