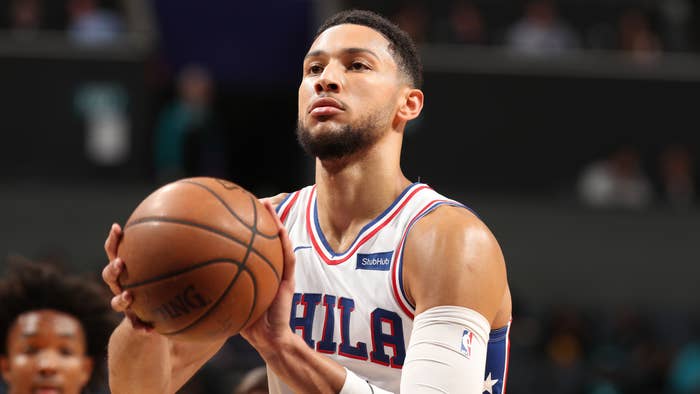 Fresh off his 1-game suspension, Philadelphia 76ers player Ben Simmons met with his team on Friday to announce that he doesn't yet feel mentally prepared to return to the game. Simmons requested a trade earlier in the summer. 
This week when he returned to practices, Simmons was disengaged, according to USA Today. Sixers coach Doc Rivers suspended the All-Defensive point guard for the team's opener against New Orleans.  ESPN has confirmed that Simmons will meet with mental health professionals for an evaluation.  
The crowd began to boo prior to the start of the Friday's game against the Brooklyn Nets, when it was announced that Simmons wouldn't be playing for personal reasons. According to Sports Illustrated, Sixers center Joel Embiid stepped in, saying, "I urge you guys to continue to support us and our teammate Ben, cause he's still our brother." Philadelphia lost to Brooklyn 114-109. 
The team appears to be standing behind Simmons even after being vocal in the past about his absences from games, practices, and events. Each of those instances have cost the athlete $2 million. At a press conference after the announcement of Simmons' suspension, Embiid told reporters "we don't get paid to babysit somebody." He later added, "at this point, I don't care about that man. He does whatever he wants." 
During a guest appearance on a local Philadelphia sports talk show, president of basketball operations for the city, Daryl Morey confirmed the ongoing search for a suitable trade. 
"If we can trade Ben for a difference maker, we will do it," Morey said. "What's our best chance to win a championship? Right now, it's re-integrating Ben Simmons to our team."