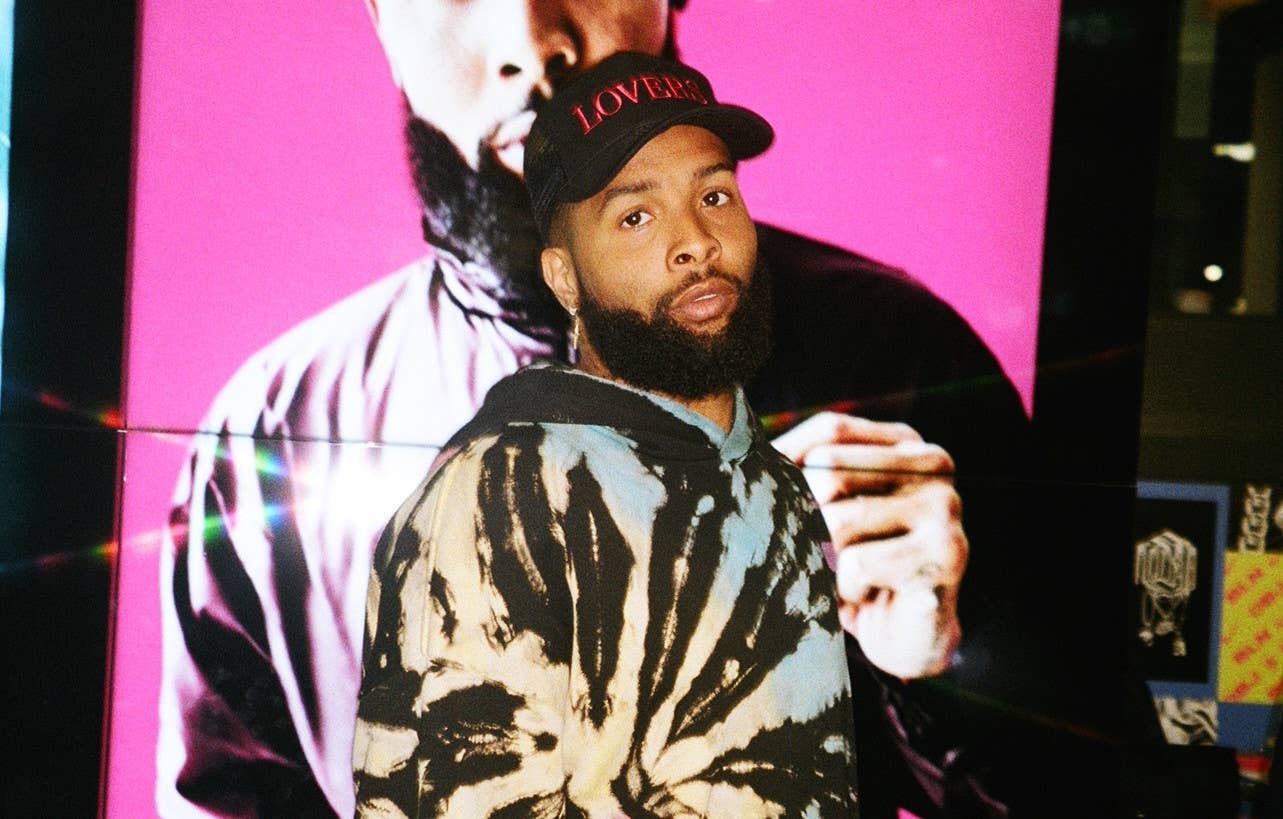 Whether it's physics-defying catches, signature celebrations or headline-making drip, there is no other player in American Football that radiates the title of "international superstar" like Odell Beckham Jr.
That much is clear upon his arrival to the new NFL Academy in Wood Green, Tottenham. Try-outs are taking place for the next generation of young hopefuls trying to make their own name in the sport. But once OBJ steps in the vicinity, training halts immediately and the entire venue gravitates towards him. Hundreds of kids all form a crowd around OBJ, who can't quite believe what they're seeing. In response, OBJ proceeds to send the commotion around him to another level by deciding to take a selfie with the kids, who instantly create a crazed mosh pit around him while jumping about to try and get in the shot.
When practice resumes, the kids' work rate has gone up ten fold, with the 16-18 year olds sprinting about absolutely desperate to impress the 26-year-old from Baton Rouge. Watching on with a smile, it's clear that OBJ remembers being desperate to make the cut himself growing up. Offering words of wisdom to the prospects taking part, OBJ is evidently at home in these settings – so much so that he's already nailed down a cockney accent with his pronunciation of "Tottenham".
Along with helping to promote the NFL Academy, OBJ has just allowed fans to get their hands of his new Nike Air Max 720 signature model – "the first of many" shoes in the pipeline with Nike according to the man himself. The silhouette mirrors OBJ's own personality, and he's clearly excited about the prospect of being able to showcase even more of what he's about in the next chapter in his career. OBJ will head to his new home in Cleveland after his high-profile move from the New York Giants to the Browns, where he'll be looking to reach his full potential and live out his dream of playing in a new environment alongside his "brother" Jarvis Landry, after years of frustration with injury and off-field politics.
With all this on his plate, there's a lot to unpack with the 26-year-old. COMPLEX got the opportunity to do so while following his experience on his recent London leg of his European tour, where we talked with OBJ about his new sneaker, his excitement ahead of the new season in Cleveland and his role in inspiring the next generation of sports stars around the globe.
Watch Odell Beckham Jr's weekend in London here, and to find out more about what's happening in London go to nike.com/London.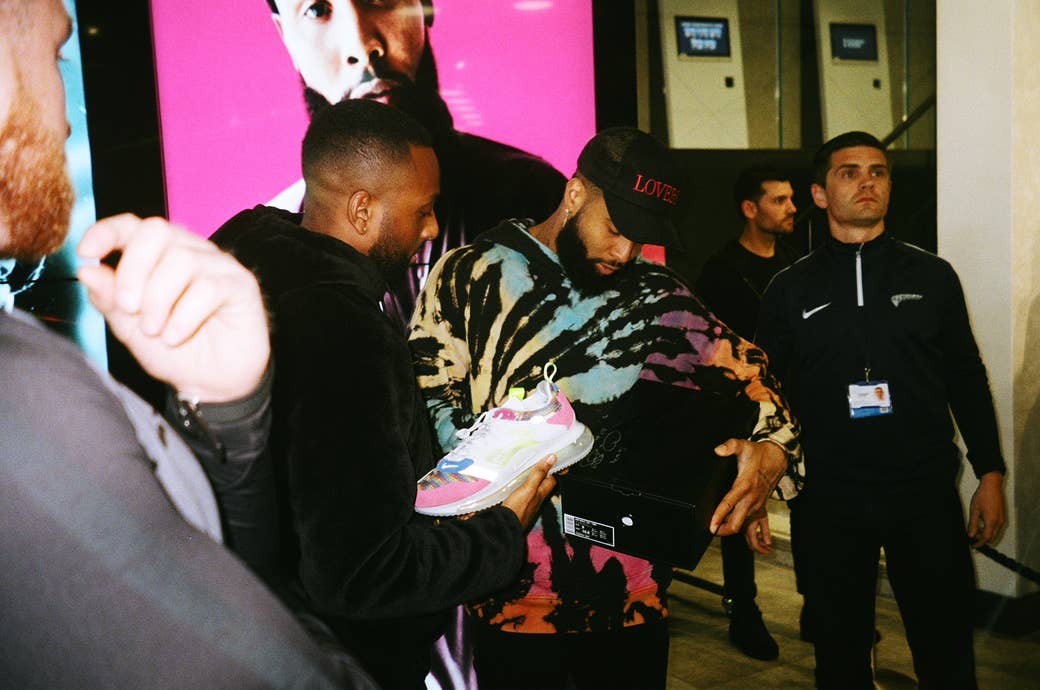 COMPLEX: You've come to London a fair bit in recent years. What does the city mean to you?
OBJ: The city of London to me personally just brings back a lot of good memories. I've spent a lot of time over here. It just reminds me of a very good period of my life being here.
You're helping to launch The NFL Academy, based at Barnet and Southgate College in North London, which is set to begin operations in September 2019. Why is the NFL a positive thing for kids in London to aspire to be involved in?
It's opening this September, and it's gonna offer students from 16-18 the opportunity to develop their ability as well as their life skills.  I think that it's really big for the kids over here. I know that football, as you'd call it, is the game everyone grows up playing, but I know there's a big love for American Football too.
Being able to spread that culture over here and getting fans to be like they are for soccer games would get interesting – the chants and the energy here is something else – so to be able to give the kids something new to be inspired to play here, and hopefully get them as excited about, is great. It's a positive thing for kids to have something that they wanna work towards is, in my opinion, the most important thing when you're growing up. So if American Football is something kids here can be inspired by, that's a step in the right direction.
What's so great about the sport and why should kids start playing ‪American Football‬?
It teaches you a lot of things about yourself, about learning how to trust others, your teammates. It's a game where ten people can all do the right thing and if one person messes up, that play doesn't work. Everyone has got to be on the same page, so there's a lot of trust involved, everyone's got to play their position well.
Learning how to win, how to take losses and learning how to deal with adversity is important. It keeps kids active, it keeps them motivated. It's hard to grasp how much you really learn from it until you get playing, so it's really important for them to get involved in a young age.
Do you feel it's important seeing the NFL getting international reach like this with young kids and bringing a more international audience to the game?
It's a good thing. Anyone around the world who wants to play deserves an opportunity to play, so it's good to see the NFL are setting this up to allow for more international players to get involved in the sport and teaching them to chase their dreams.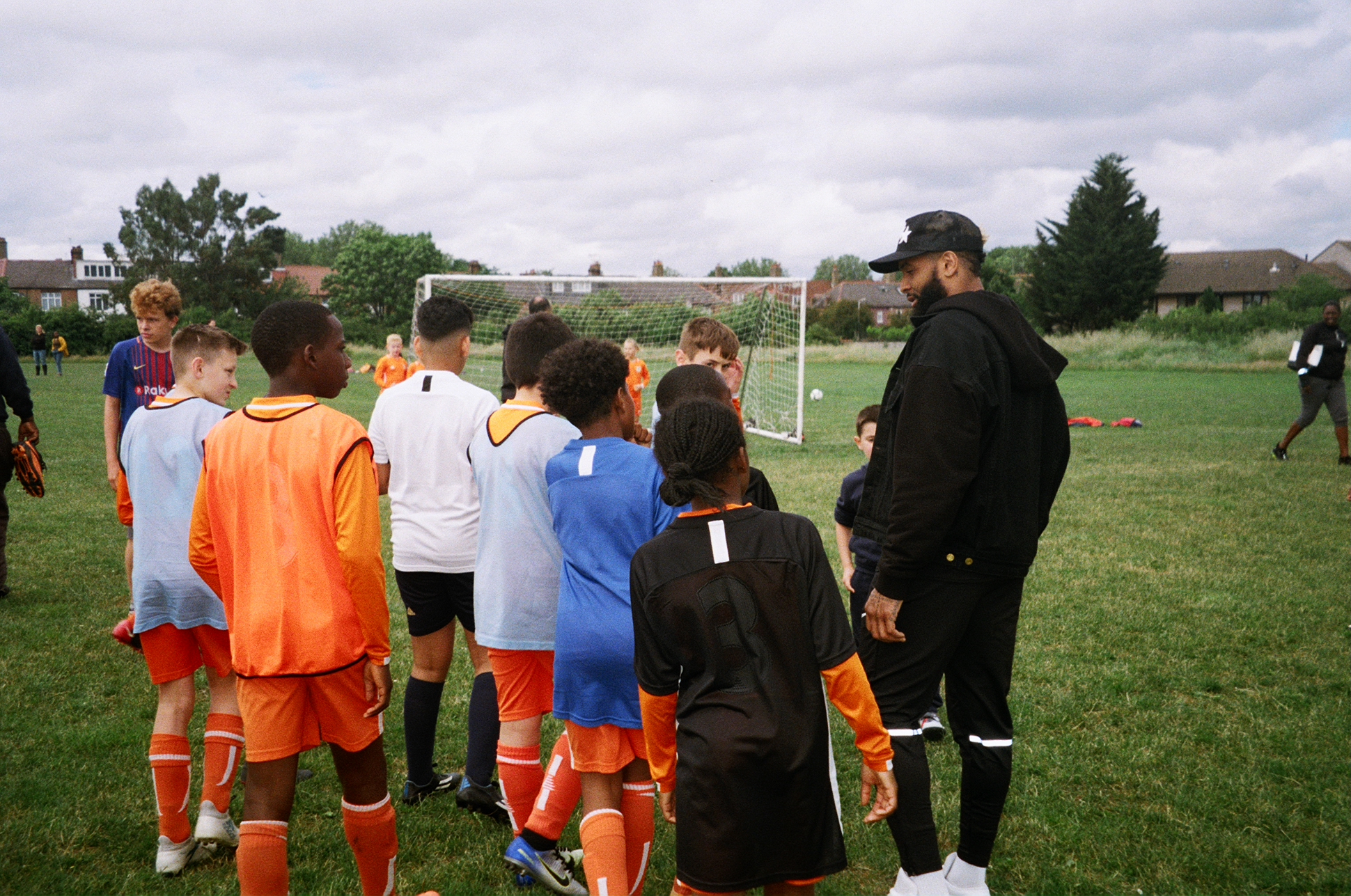 How important was having a strong community in Baton Rouge to you growing up? What kind of energy and mentality did they give to you?
Having a strong community is important. Growing up in Baton Rouge, I grew up in the South, so everything is family oriented. My energy was always the same growing up, and my mentality from the South was just getting out of the mud. You always strive to make it out and to accomplish everything that you want to do.
How important was sport to you growing up in shaping who you are? What and who were your biggest influences growing up to become an NFL player?
My parents obviously, but Lil Wayne was one of my biggest influences for sure. Growing up listening to him before games and the period of time when he came in. In terms of sportsman, Allen Iverson, Randy Moss, Michael Vick… those sort of guys influenced me to drive me. Wayne was definitely the most instrumental for me for sure though.
It wasn't just football, though. All sports were essential for me in terms of teaching me dedication, hard work, being able to follow rules. It's just all I did growing up. Whenever I wasn't in season playing one sport, I was playing another – whether that be football, basketball, track or soccer.
We've seen you link up with Neymar, Mo Salah and Dani Alves recently. Do you have many other friends who play football?
I always feel like I was supposed to play soccer growing up. I actually had trials to go and play for Trinidad and Tobago under 13s growing up, but I didn't want to move away from home. I used to play as a forward or attacking midfielder. I always show love to a lot of those guys whenever they pull up to Los Angeles or when I'm in Europe. I'm heavily rooted in the scene for sure.
How closely do you follow football and the Premier League in particular? Do you support a team?
I still follow it, but there's just too many games for me to keep up with on a day to day level. I just like watching out for the top players though. The Premier League is great too, I always watch out for games there. It's a strong league, and always has been, so I try and watch as much as I can.
I've been to a few games here and there. I went to watch Tottenham v Chelsea, Real Madrid v PSG when Ronaldo was still there…a few others, but every time I watch, the atmosphere is insane. If we could bring that energy to the NFL it would be so much more intense. Seeing the crowd up the whole game, the chants, the back and forth between the fans supporting…it's not like that in most places in the NFL. If they could bring that same energy over to the States, that would be dope. I prefer that energy, it gets you hyped.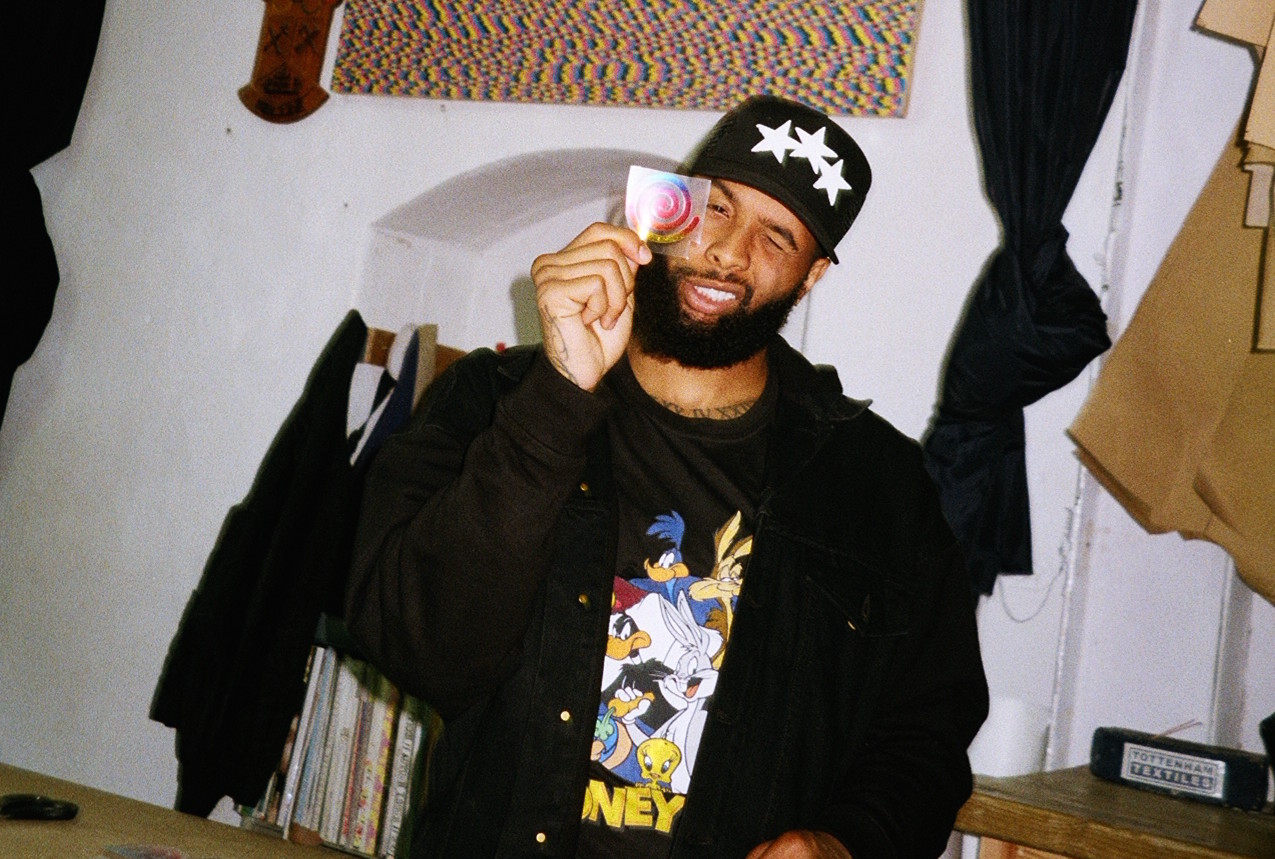 Do you listen to a lot of UK music?
Yeah, my favourite guy is Wretch 32. I listen to Skepta as well…and Giggs for sure. I need to listen to Skepta's new album, but I can't say I've been on my music too much recently. But US-wise, I listen to a lot of Drake, Lil Baby, Gunna, a lot of Young Thug. Those guys.
We recently saw you flexing all your Nike sneakers on the 'gram. How do you feel about the SNEAKRS Stash taking place in London?
It's exciting just to be able to expand it overseas. This was a dream of mine growing up. I was all about sneakers growing up, so getting to design one is a lifelong dream.
You're an avid sneakerhead and have been for many years. What's in your rotation at the minute?
I've got a massive collection – I'm probably gonna need to get a closet of my own to put them all in very soon. I've been a sneakerhead since day one. My dad always used to work his tail off just so he could get me fresh J's. Since I was little, I was always wearing sneakers. Since I was little, they were calling me "academy", 'cos I was always trying to get my mom to get me the right cleats to play in. I've been rocking Nike's and J's my whole life.
You've got your own Nike sneaker coming out on the 720 silhouette. How did the design come to be?
With the 720, it was the timing and the place. We wanted to explore the 720 bag, and I was really hands on with it. They were showing me certain colourways, and I'd come back with something wilder. I knew it was gonna be a summertime shoe, so I wanted it to be a loud shoe. On a pool party, festival kinda vibe.  It was a dream come true to be able to make and create the shoe and make it happen with Nike.
When it comes to your own game, you've just made your biggest career move to date with your move from Giants to the Browns. Do you think the move will help you fulfill your potential?
I can't wait to get going. I just felt with the Giants I was just stuck at a place that wasn't working for me anymore. I felt like I wasn't going to be able to reach my full potential there; mentally, physically, spiritually, everything I felt capable of doing, I just couldn't see it happening there. So I think allowing me to be in an environment where I can be myself and give it a different approach, I feel like my football will benefit. I'm just excited about being able to play football again and not have to deal with all the other stuff and politics that came with my previous role.
How excited are you to be linking up with your old LSU teammate Jarvis Landry next season?
I'm very excited by the culture at the Browns. It's been building over the years, and they've got players over there who I just know I'm gonna click with. Jarvis is a brother of mine, and we dreamed of this moment. It's just crazy that it's actually happening. The percentage of people that make it to the NFL is less than 1%, so the chances of me playing with one of my brothers on the same team is a dream manifested, for sure.
What are your ambitions ahead of the new NFL season with the Browns?
I'm trying to achieve growth. I want to release myself from my past and have a fresh start. I've been waiting to explode in games, and I've been working extremely hard to get take my game to the next level. That's exactly what I think I can do at the Browns.