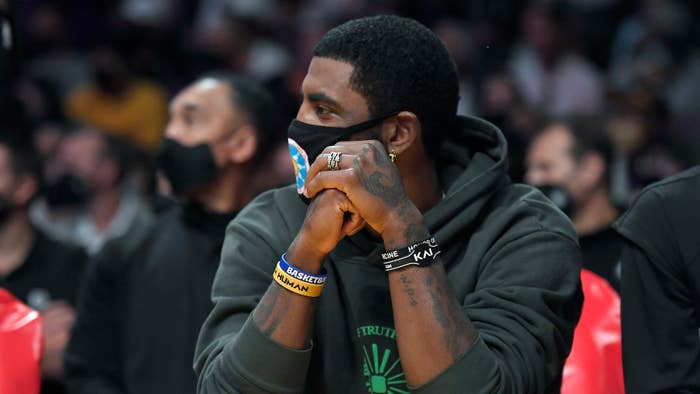 UPDATED Oct. 10, 3:45 p.m. ET: Even though Kyrie Irving remains unvaccinated, he will be able to practice at the team's Brooklyn facility now that its status has shifted from indoor gym to "private office building," ESPN reports.
However, he still won't be able to play in home games since New York City started enforcing its COVID-19 vaccine guidelines.
"It sounds like we may have Kyrie on the road with us, but I'm not sure he'll be playing, since we haven't seen him for a week, and obviously safety first," Nets coach Steve Nash said on Friday. "Not going to have a huge risk of injury, but a lot to be worked through. We're just getting information at the same time you guys are, so we'll see [what happens]."
Nash spoke with reporters before Friday's preseason game in  Brooklyn opposite the Milwaukee Bucks, the first game Irving has missed due to his immunization status. The city's vaccine mandate says a person needs at least one vaccine shot before entering places like indoor gyms, which applies to Barclays Center and Madison Square Garden.
Irving hasn't played with his team since their San Diego training camp. The next time he can play, at the moment, is the Nets' Monday game against the Philadelhpia 76ers before the season opener on Oct. 19 versus the Milwaukee Bucks.
"At least he can practice," Kevin Durant said on Friday. "But we want him here for the whole thing. We want him for games, home games, practices, away games, shootarounds, all of it. So hopefully we can figure this thing out."
See original story from 10/05/21 below.
With the NBA season two weeks away from tipping off, it has been reported that the Brooklyn Nets are getting ready for the possibility that they'll be without Kyrie Irving for home practices and games for the foreseeable future due to him not be vaccinated.
According to ESPN's Adrian Wojnarowski and Brian Windhorst, it appears that the Nets' hopes that Irving would abide by local health guidelines and get the COVID-19 vaccine fell upon deaf ears. 
"There had been previous optimism Irving would get vaccinated and fulfill local mandates, but that hope is waning and Irving's continued resistance to vaccination has Nets preparing for possibility they'll be without him for home practices and games for foreseeable future," Woj tweeted on Tuesday night, citing sources.
The Brooklyn Nets are also unsure if they will be accommodating Irving as a part-time player this year who would only be available for certain away games where being vaccinated isn't required. It's been reported that Kyrie's fines for missing home games would be in the six figures as players who miss games because of their vaccine status won't be paid for them.