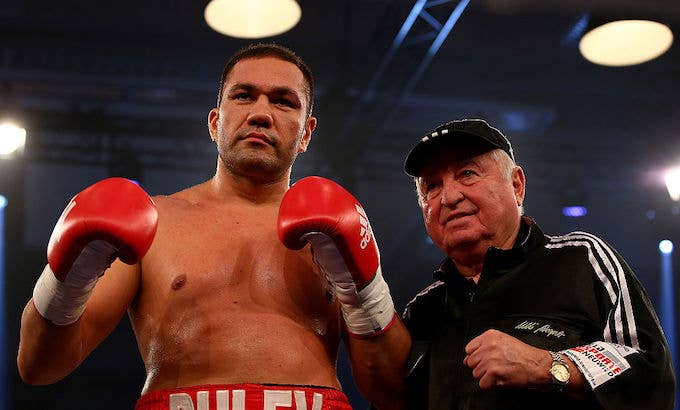 UPDATED Mar. 29, 4:40 p.m. ET: Bulgarian boxer Kubrat Pulev has been temporarily suspended from boxing in the state of California following his nonconsensual kiss with reporter Jenny SuShe, BBC Sport reports. According to the outlet, Pulev also allegedly put his hands on her buttocks and squeezed them.
See original story below.
Bulgarian boxer Kubrat Pulev received a wave of backlash after he kissed sports journalist Jenny SuShe without consent during a post-fight media interview in Los Angeles on Saturday. In the video footage of SuShe's interview, Pulev answers a series of questions and, before wrapping up the exchange, he suddenly grabs the reporter by the mouth and quickly brushes his lips up against hers. Once Pulev pulls away, SuShe nervously laughs and walks toward the cameraman. 
In response to the uproar sparked by the predatory nature of the kiss, Pulev claimed that he's a friend of SuShe's and thus, his action shouldn't be viewed as controversial. 
"You may have seen a clip of me kissing a female reporter after I won my fight on Saturday night," Pulev wrote on Twitter. "The reporter, Jenny, is actually a friend of mine and after the interview, I gave her a kiss. Later that night, she joined me and my other friends at my post-fight celebration. On that video, after our kiss, we both laughed about it and thanked each other. There really is nothing more to this."
However, SuShe doesn't see the exchange as incidental, as she's hired legendary civil rights attorney Gloria Allred to take legal action against Pulev. Allred has famously devoted her career to fighting for women who have been victims of gender-based discrimination and violence. Given Allred's legal tactic of utilizing public opinion in her cases, the lawyer's office announced that she will be holding a press conference on Thursday in Los Angeles to discuss the reporter "who was suddenly kissed on the lips without her consent." 
SuShe's employer, Vegas Sports Daily, released a statement in regards to Pulev's inappropriate kiss, explaining that they share her outrage and embarassment. "What happened to Ms. Sushe was completely blindsiding and unwarranted and we share in her shock, hurt, embarrassment and general outrage," the statement says. "We want to make it clear that women should feel safe and comfortable to exercise the duties of their job, free of abuse, advances, harassment, etc. in the workplace."