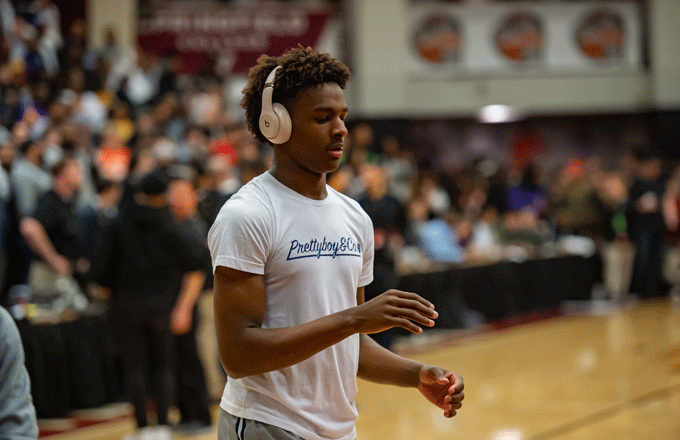 On Monday, Bronny James was one of several high school hoopsters slated to take the floor for the fifth and final day of the Spalding Hoophall Classic. This annual gathering is held in Springfield, Massachusetts, uncoincidentally the city where Basketball's Hall of Fame is. And while national prep showcases may not typically be on your radar, if you were bored and had nothing to do today, you could watch most of Monday's action on ESPNU. 
Now let's tie that first paragraph together. 
James' California team (Sierra Canyon) was scheduled for a cross-country 1 p.m. contest against Virginia's Paul VI High School. Not shockingly, that was one of the televised games. And during that game, a member of the crowd (a fan? A kid?) appeared to chuck something tiny (kind of looks like popcorn) at the freshman as he was setting up to inbound the ball. The brief moment was captured by Twitter user @dvar91, who also tagged James' dad.
LeBron caught wind of the tweet and responded, "Hating has no age limit!"
He added more on Instagram, saying, "Know I got your back and front throughout it all! I'd die for you and your siblings. Never waver no matter what disrespect, hate, envy, jealousy, etc comes your way! Only push forward and continue to be the great kid/young man/person you are! Love you kid!!"
Though it's unclear who exactly the culprit is from the grainy footage (it appears to be a kid sitting in someone's lap) it's almost certain there are people on the case right now. Rarely does anything good seem to come from that.
If something more comes from this we will be sure to update you.