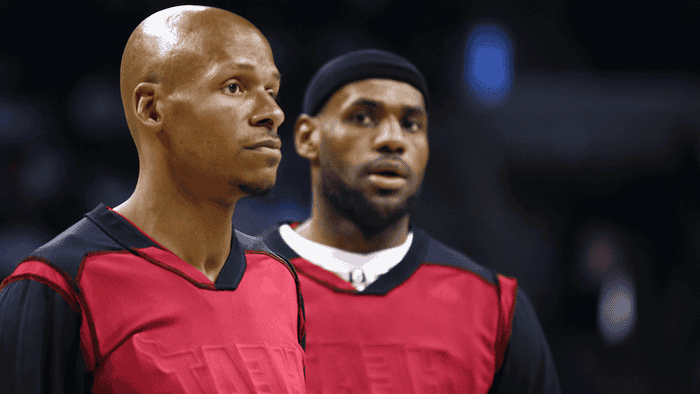 Even though he's not playing right now, LeBron James is still getting his nuggets busted over his hair.
Well, him, Shaq, Jermaine O'Neal, Richard Hamilton, Stephon Marbury, Carlos Boozer, and whoever else Ray Allen could think of when his cabin fever manifested by asking his fellow bald(ing) basketball-ers to just let their hair grow out until this quarantine ends. 
If ever there was a time to experiment...
We're going to go ahead and guess that LeBron's not going to take him up here, but Shaq might. Make your own internal predictions about everybody else. 
If anything, given that more well-follicled people keep whining about a lack of haircuts during this crucial period (you know, feel free to just buzz it), there may be no better time to be a dude who just chops his locks with clippers. The less hair you have the less work. 
That's not how Allen sees it though. As he wrote in his caption:
I wasn't gonna post this but two tears in a bucket! This is where I'm at with it. Lol So I'm gonna ride #myJefferson out until the "Rona" kicks rocks! For those of you that don't know I have cut my own hair my whole life so it's been hard not to put the clippers to it but when I look back at these pics I will remember the Rona! Lol Fish don't fry in the kitchen, beans don't burn on the grill, took a whole lotta tryin, just to get up that hill, now we're up in the big leagues, getting our turn at bat, as long as we live, it's you and me baby, there ain't nothing wrong with that"! I nominate all my bald or going bald brothers to let it grow out, y'all know who you are! Lol.
Here's where he's at right now:
And here's where he says he's headed:
You got to dig the honesty. We'll update when LeBron follows suit, which is to say we won't update. 
Wouldn't mind being wrong though.