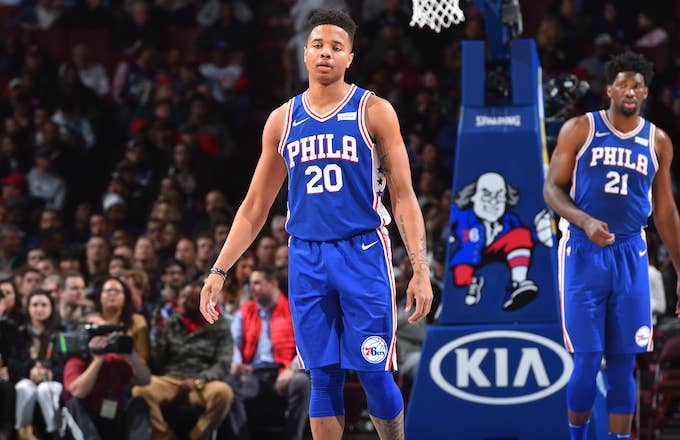 After being out of action for the Sixers for more than five months, No. 1 draft pick Markelle Fultz was a surprise addition to the team's lineup for Philadelphia's Monday evening contest against the Nuggets. By getting on the court, Fultz busted up a 68-game hiatus that dated back to Oct. 23.
So how did he fair? Well, given that the past several months have been filled with speculation that his jump shot is broken, it could've been a lot worse. Following a standing-o from the home crowd, his first points came by way of a field goal that even a guy with a busted shooting form could make:
His first actual jump shot was an air ball, but it looked tipped. Not that this Twitter clip will help that much, but you try to be the judge:
On the night he finished 5-of-13, while racking up 10 points in 14 minutes. He also added eight assists and four rebounds:
Also, here he is hitting a jumper in the waning minutes of the 123-104 win, as his team was up by 21 points. Is it proof that his shot is fine? No. Not really. But it is better than him sailing it over the backboard. Also it came after the crowd busted out a "We want Fultz" chant:
His next game will take place on Wednesday against the Knicks. If all goes according to plan, each passing contest will become less and less of a spectacle.