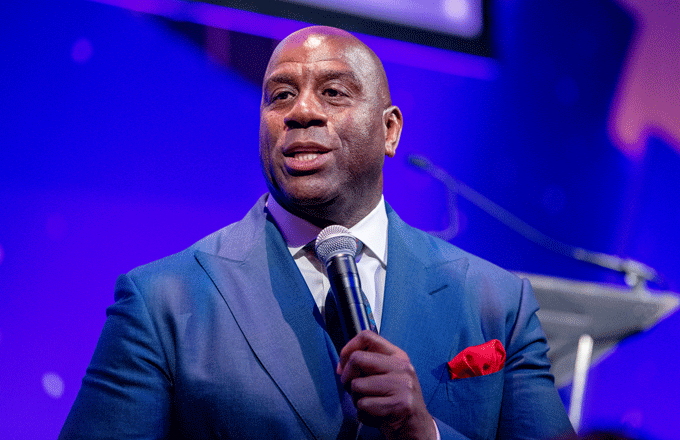 Echoing a similar theme that he's maintained since his abrupt departure as an executive for the Lakers, Magic Johnson said that he should be credited for the success of the current team, which is a squad that holds a 24-4 record that ties for the best mark in the NBA. 
Johnson's comments came in an interview with L.A. Times and Around the Horn staple Bill Plaschke during an event in which the Hall of Famer continued his decades-long philanthropic pursuits by giving away bikes to children at a community center. 
Don't let that be completely overshadowed by a few quotes.
Put plainly, Johnson said that "this team would not be in the position it's in without me." He goes on to explain how he can make such a declaration after a tenure that wasn't exactly celebrated the way that his playing career was. 
As the article states:
[Magic] talks about the trades he and [GM Rob Pelinka] made to clear the salary cap space to sign James, notably the dealing of Timofey Mozgov and D'Angelo Russell. He talks about his recruitment of James. He talks about the players they drafted — Lonzo Ball and Josh Hart — who were included in the deal for Anthony Davis.
While stating that he's "not a regretful guy," he did say that if he could do something over again it would be sitting down to address his surprising resignation, which came before the team's final game of the 2018-19 season, with a few of the franchise's big wigs. 
"The only thing I would have done different would be to sit down with Jeanie [Buss] and let her know I was leaving, sit down with LeBron [James] and let him know … otherwise, I wouldn't have changed anything. I still would have walked away," he said.
He also said that he and Pelinka have moved past any bad blood that was potentially lingering after he left the franchise, adding that "we're good, we still talk." 
You can feel free to disagree with his self-assessment if you want. But hopefully we can all agree that giving bikes to kids at Christmas time is a good thing.