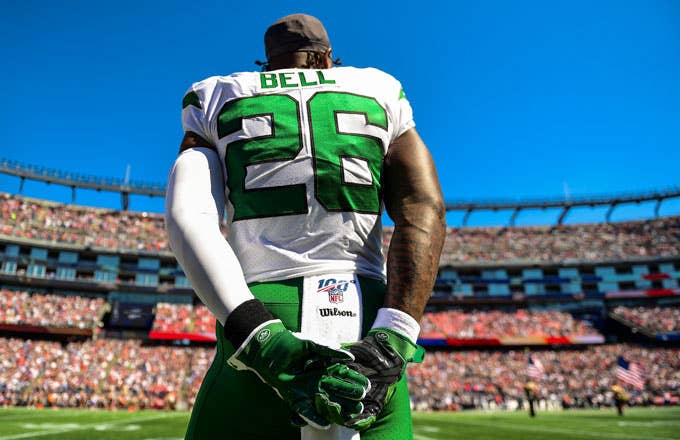 On Sunday, the New York Jets covered the spread against the New England Patriots...but still lost by a fairly sizable 30-14 margin. It's doubtful they'll take a whole lot of solace in helping gamblers who had faith that they could stay within 23 points of the defending champs, but at this point, covering the spread looks like their most achievable goal.
After all, to say that the team's start has been disappointing would be an understatement, as their second-year starting quarterback is out with mono, their backup quarterback is out for the year after suffering a brutal ankle injury on national TV, and their latest loss puts them at 0-3. Put another way, that already puts them three games behind the Patriots and the Bills
Suffice to say that Le'Veon Bell's first season in New York isn't going as well as he must've envisioned when he signed a lucrative four-year deal with his new team back in March.
After Sunday's loss, Bell logged onto Twitter to call out fans who were talking shit about either him or the team with a message that said he doesn't want them back on the bandwagon when/if the team turns it around.
However his attitude wasn't all confrontational, as he also asked for support from fans who have yet to throw in the towel.
Through the season's first trio of contests, Bell has averaged less than three yards per carry (with 163 yards on 56 attempts). He has also found the endzone just once so far. His early underwhelming production seems like something that could be attributed to either rust from missing all of last season over a contract dispute or the aforementioned very bad QB situation.