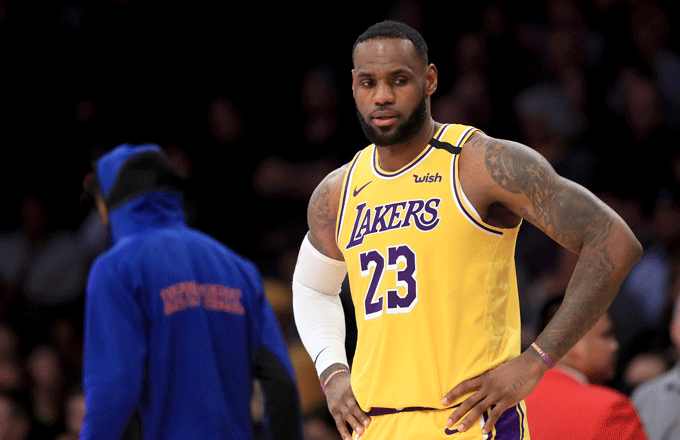 Over the past several years, New York media and optimistic Knicks fans have openly wished/fantasized about adding star players to the franchise only to miss out on their targets again and again. Then they move on to somebody else. Project a lineup that'll never exist. It happens once more. Etcetera. Ad nauseam. You get the point. If having a glass half-full outlook gets you through a prolonged stretch of obvious dysfunction, then so be it.
On that subject, following another Knicks loss on Wednesday, a reporter asked a visiting LeBron James if he'd ever one day consider pairing up with his son, Bronny, as two members of the Knicks. 
That seems like a very out of left field question but if all you really have as a fan base is hypotheticals, you might as well dream big. 
As for the response, LeBron was a little more reserved than other notable sports dads.
As you can see in the clip below, after describing Madison Square Garden as the "mecca of basketball," and "his favorite place to come play," LeBron was then posed the question about taking an NBA court with his freshman son.
"With all the talks over the years of Knicks fans desperately wishing that you'd come here, if you son gets drafted by the Knicks someday will you consider playing with him here?" the reporter asked.
Cue LeBron giving a somewhat serious answer:
"My son's in the ninth grade, man," he said. "[He's] trying to worry about what project he has to turn in tomorrow. That's what we're worried about right now. That's what's most important. School, home, and being the best big brother he can be." 
Spoken like a guy who's been answering postgame questions for two decades. But, hey, like the tweet says, he didn't shut that door either.