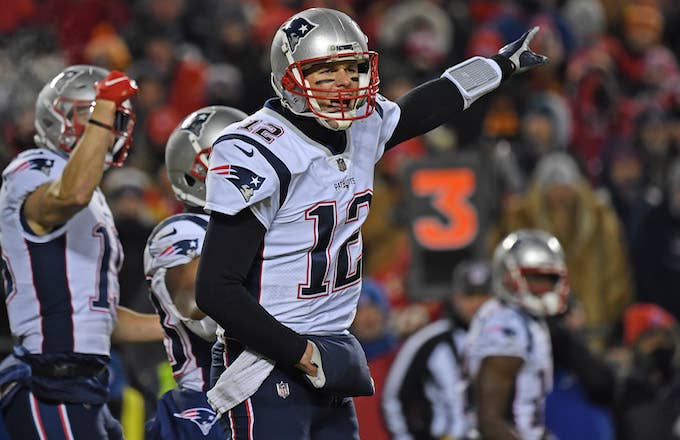 According to The Boston Herald, the NFL is looking into the possibility that some rogue fan(s) attempted to give the Chiefs an unfair homefield advantage by trying to blind Tom Brady with a laser pointer during Sunday's AFC Championship Game.
Video clips posted to Twitter by KMBC reporter William Joy show green lights hovering over the face and body of the G.O.A.T. during a few of the waning minutes of the thrilling contest (which New England ended up winning in overtime by a score of 37-31). For context, Joy said that these laser-ings occurred between the muffed punt that wasn't, involving Julian Edelman, and the pick that Brady threw just a few plays afterward:
It also happened again during a few other key plays in the fourth quarter:
The Herald adds that the league's vice president of communications, Brian McCarthy, told them that they are "looking into the report of the laser beam," with NFL security taking the point on that. Both K.C. police, and the New England Patriots declined to comment. If the person(s) do(es) get discovered then it will be up to the league to decide how to punish them since Arrowhead Stadium was under their control on Sunday evening. 
Ominous sounding, that is.