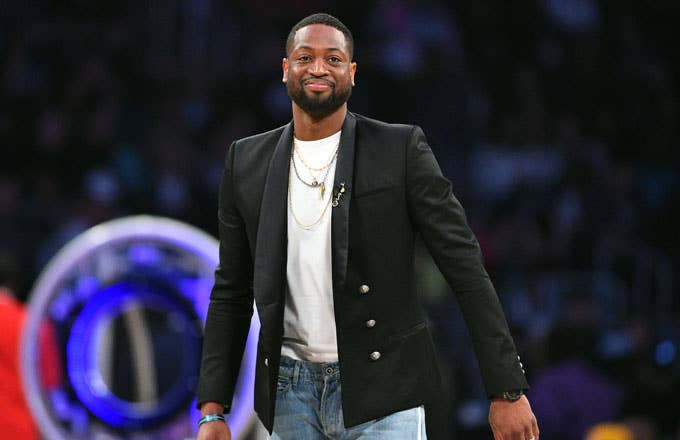 Wade reportedly told Jackson that over the past few days he's been feeling genuinely unsure of whether or not he'll play beyond this season, which is the first he's time he's felt this way in his career. If he does play, it will only be for the Heat, which he's reiterated since rejoining the team in February.
"I don't know," Wade said about the prospects of returning. "I have told everybody around me that I am taking it after this season and go from there. It's the first year I've ever went into the summer with that mind-set. I always went into it as a free agent or opting out of a deal to get another deal. This is the first summer I can say I'm just going into the summer and see how I feel and see the position this organization is in and go from there. I'm not really concerned with it, honestly. I'm cool with whatever I decide to do. It will be my decision."
Asked if he needed to wait until after this season wraps up to ultimately decide, Wade said "definitely."
"You definitely have to check that," the 12-time All Star said. "A lot of things go into it. Do you want to put that same grind in again? As you get older, it's a different kind of grind to get ready for games, to get your body ready. [And] can you mentally go through another year and give it your all and not be checked out in the middle of that season?"
He also talked about how teammate/fellow old-timer Udonis Haslem told him he takes it year by year, and that he'll do just that before discussing the possibilities with the team's front office.
"[Udonis Haslem] always talked about, as you get older, you take it year by year," he said. "But this is the first summer that I will go into the summer and say I ain't got much hair left, but I'm going to let my hair down and look at everything as a whole, my family and basketball. Being back here helps that situation for me, makes the decision even easier since now that I'm back already. And sit down with Pat [Riley] and Micky [Arison] and everybody and see what's best for me and go from there."
The 36-year-old Wade holds pedestrian numbers of 10.9 points, 4.0 rebounds and 3.5 assists per night this season, well below his career averages. (In fact, the points and assists per game are career lows). But that reflects the fact that he's coming off the bench for the first time in his 15-year career. As for his current team, if everything holds as is, Miami would be the eighth seed in the Eastern Conference come playoff time.