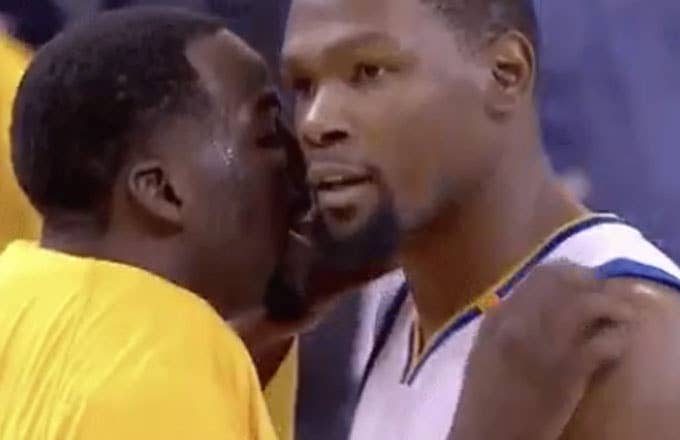 On Sunday, the Warriors bested Portland by a score of 121-109 in Game 1 of the first round of their inevitable return trip to the NBA Finals. During their 12-point victory, Draymond Green appeared to motivate and scream something at teammate Kevin Durant, who nodded in agreement with whatever it was being shouted at the right side of his face. The moment was made for a GIF.
Now, I don't know what the hell Draymond actually said. If you can read lips, here's your moment. Naturally, Twitter users had to get their own jokes off:
When your boy gets too lit and cheats on his girl and you're trying to convince him that it wasn't really him it was the Hennessy.

pic.twitter.com/OkoeUxLOx8
When you're the MC at church, and they're telling you the list of announcements during praise and worship.

pic.twitter.com/bkUoth609w
This @XLNB guy really went in, coming up with a hilarious bad advice theme. If you want to see a bunch in a row, click on his Twitter here. Anyway, he saw an opportunity and he ran with it:
Safe to say there's probably more of these to come in the future. Give it your best shot if that's your thing.