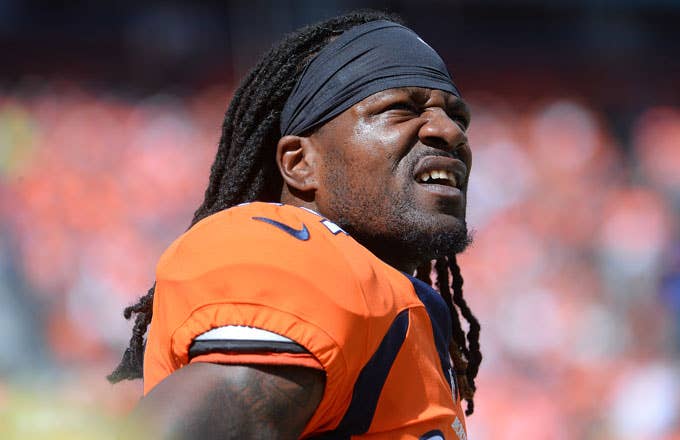 Last week, NFL free agent and police report veteran Adam "Pacman" Jones was arrested during the early morning hours following an incident at an Indiana casino that occurred after being accused of cheating.
At roughly 3:10 a.m. on Feb. 27, Jones was booked on disorderly conduct, resisting law enforcement, public intoxication, and intimidation. At that time it was unclear what Jones was arrested for, though Cincinnati jail records stated that he had an outstanding "out of county" warrant. Six days later, details of what went down have surface.
According to TMZ, Jones cussed out several law enforcement officers during his arrest at the Rising Star Casino while threatening one with death. Court documents say that Indiana Gaming Commission Enforcement agents responded to Jones after the establishment suspected he was capping his bets (adding more chips after he knew the outcome).
Court docs say he responded angrily to these suspicions, saying "fuck you" to multiple officials while giving them the finger. During this incident, IGCE agent Christopher Norton claims Jones looked at a fellow agent and said "I will kill you...I will whoop your ass." Pacman's alleged conduct led to Norton putting him in handcuffs. He also smelled booze on the former Pro Bowler, which frankly isn't all that surprising at 3 a.m. in a casino.
Agents say that Jones continued to be belligerent as he was taken to the gaming office. At that point things really took a left when Jones apparently managed to break loose and attempted to make a run for it as he was handed over to the Ohio County Sheriff's Department. This didn't work, and he eportedly told officers, "fuck you," "suck my dick," and "you're a bunch of crackers," when he was recaptured.
Yet another officer claims Jones also said, "Suck my dick, n***er."
The alleged tirade racked up eight criminal charges, including felony intimidation and battery against an officer. His misdemeanors include cheating at gambling, resisting law enforcement, and public intoxication. 
He will be back in court later on in March.