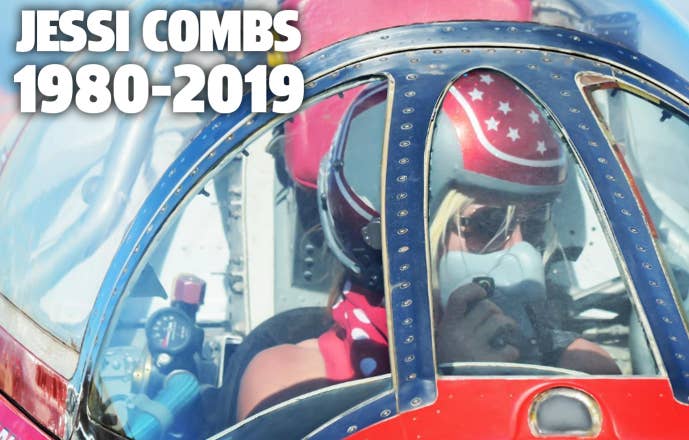 UPDATE 9/4, 10:45 a.m. ET: TMZ has obtained video showing the final moments of Jessi Combs' attempt at topping her own land speed record, before the fatal crash. 
See original story below. 
Professional driver, fabricator, and television personality Jessi Combs died at the age of 36 on Tuesday, according to a local NBC affiliate. 
Combs was attempting to break her own land speed record when she lost control of the 52,000 horsepower jet-powered car she was driving and crashed in Oregon's Alvord Desert. Police were called to the incident around 4 p.m. local time and are still investigating the incident. 
Combs' death was confirmed by her team member Terry Madden, who mourned her death on Instagram. In the caption, Madden claimed he was the first person to arrive at the scene of Combs' accident, and that they did "everything humanly possible to save her."
"Unfortunately we lost [Combs] yesterday in a horrific accident, I was the first one there and trust me we did everything humanly possible to save her!!" Madden wrote. "Please donate to nothing, I know there will be people try, we are finishing the documentary as she wished and the world will know the truth and her foundation will use those funds to do amazing things in this world and make her legacy live on properly."
Combs' family also confirmed her passing with an official statement. "It is with extreme grief, and in celebration of her life that her family and close friends share that race car driver, and TV personality Jessi Combs, passed away in a fatal crash, where she was pursuing a land speed record in the North American Eagle on August, 27th 2019 on a dry lake bed in Oregon," the statement reads. "The details of the crash have not been released at this time."
In 2013, Combs used the same North American Eagle Supersonic Speed Challenger that she died in to break the land speed record. After topping out at 398 mph, she was dubbed "fastest woman on four wheels." She was a respected off-road racer as well as a skilled builder and fabricator. She frequently made appearances on TV shows including Mythbusters.