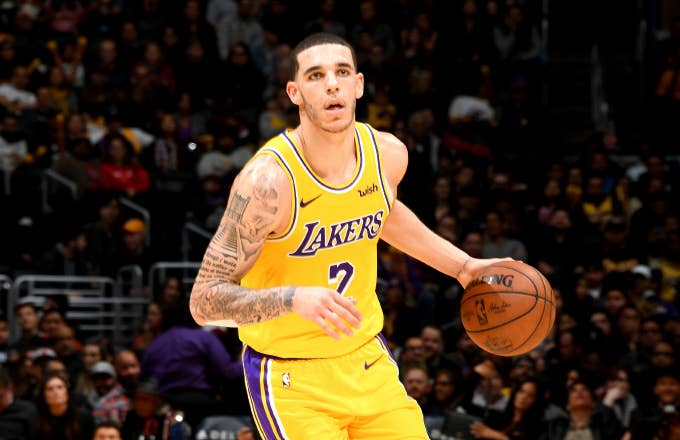 When reports surfaced that Anthony Davis has his sights set on being traded to the Los Angeles Lakers, the feeling was that the team's young core could be shipped to New Orleans for Davis. Reports indicate that Lonzo Ball would likely be in the package, which reportedly didn't sit well with the young point guard. So instead of waiting for Magic Johnson to tell him where to book his flight, Ball, in an attempt to control his own destiny, let it be known that he would prefer to go to a potential third-party team like Chicago or New York, instead of landing with the Pelicans, where Jrue Holiday is their established point guard.
While this seems like a reasonable request, the Los Angeles Timesreported on Tuesday that the Pelicans feel that Ball has "star potential" and if involved in the Davis trade, he would start for the team.
"The Pelicans view Ball as a player who would become the starting point guard," an NBA insider told the Times. "They don't see Jrue Holiday as a point guard because he 'doesn't want to be a point guard.'"
"The sources said the Pelicans would play Ball 35 minutes a night and make sure he 'would fit' in with New Orleans so he could become a star," the article went on to say. 
Even though Ball does not prefer the Pelicans, since going second overall in the 2017 draft he has failed to live up to his potential in Los Angeles. Perhaps (like D'Angelo Russell's move to Brooklyn) a fresh start in New Orleans is exactly what Ball needs to become a star in this league.
While these reports are promising for those wishing to see another Lakers dynasty, it should be noted that as of Wednesday (Jan. 30) Pelicans' General Manager Dell Demps has refused to engage in trade talks. Per ESPN, Demps is avoiding the drama surrounding AD by "not picking up his phone." This coincides the team's official response to Davis' trade request. In a statement the Pelicans — who have AD under contract until 2020 — claim that they are not in a rush to move the center and will only do so when there is a situation that is promising for both parties.
And although several sources have said New Orleans is extremely interested in Ball, to trade for Davis the Lakers would have to give up more than just a promising point guard. As a result, LA is looking to put a package together that will get Demps on the phone before the Feb. 7 tradeline deadline.