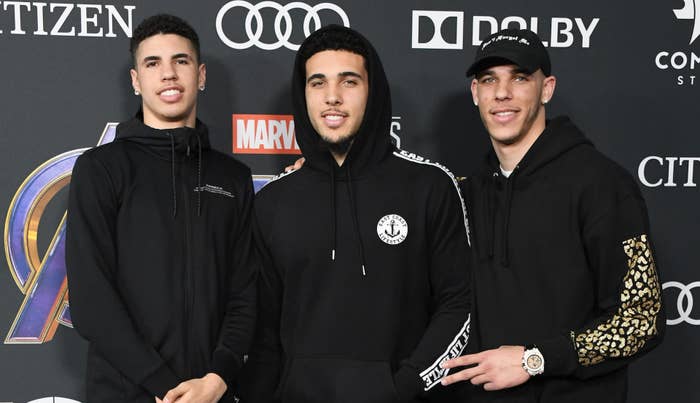 Lonzo, LiAngelo, and LaMelo Ball are planning on inking a deal with Roc Nation Sports,ESPN reports. LaMelo's manager Jermaine Jackson explained that the move was a "family decision."
"This is now an extended family," Jackson told ESPN. "They put together a beautiful game plan with JAY-Z. The basketball game is about to change. They are going to create something totally new."
The Ball brothers will be the latest addition to Roc Nation Sports' bustling basketball division, joining athletes like Kyrie Irving, Skylar Diggins, and Markelle Fultz. The move also comes as LaMelo Ball prepares for the 2020 NBA Draft, where he's projected to be the No. 1 pick. 
LaVar Ball has used the Big Baller Brand to thrust his family into the spotlight. Yet even though the Balls have found a way to profit off their name, BBB was built on core family values. The balancing of business and familial relationships is what motivated the Balls to pick Roc Nation over other agencies.
"We talked to several agents, but the family had good vibes with Roc Nation," Jackson said before detailing his personal relationship with Hov. 
"I've known JAY-Z since I played for the Knicks, but this is what the kids wanted to do. Jay-Z is a master at what he does. He's global. It's power beyond power," he continued. "This is something that they are building from the ground up together. They are brothers and they love each other and that's how they roll. It's all love. They don't separate from each other."
Roc Nation Sports will now take on the task of negotiating LaMelo's endorsements, including his eventual shoe deal. Although Hov is the creative director of Puma Basketball, Jackson tells ESPN that LaMelo is not tied to the brand and is keeping his options "wide open." Jackson also emphasized that Melo's current focus is getting ready for the NBA. 
"Right now Melo is focused on the weight room and working on his game training with Lavar," he said. "His father is doing a phenomenal job. He already put seven pounds of muscle on him. He's working out with Lonzo and 'Gelo trying to get ready for whatever comes next. He's grown half an inch in the last few months."