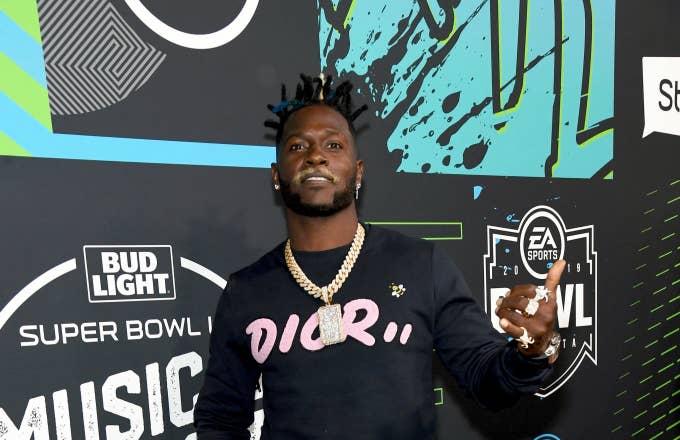 Drama has engulfed Antonio Brown since before he arrived in Oakland, and it's not going anywhere. The Raiders wide receiver has missed the team's training camp and first preseason game for multiple reasons—one being an issue with his helmet. While some people are condemning Brown's behavior, his new coach, Jon Gruden, is on Brown's side.
Following the Raiders' 14-3 exhibition win over the Los Angeles Rams, Gruden voiced his support for Brown. 
"I support this guy. I think that's what needs to be said," Gruden began. "I don't know what anybody's writing or what anybody thinks, but this foot injury wasn't his fault. This was a total accident. It really wasn't his fault, and it's a serious injury. I know that some people are [joking about] it, but it's really not a laughing matter. The guy is hurt, he didn't do anything wrong, and the helmet thing is a personal matter to him."
Prior to camp, Brown was placed on the team's non-football injury list due to a mysterious foot injury. It was later revealed that Brown had suffered burns on his feet from wearing improper footwear while undergoing cryotherapy in France. Although he was taken off the list on July 28, Brown has yet to participate in a full practice, reportedly because of a dispute over the NFL's new helmet regulations. 
According to ESPN, Brown wants to wear a 10-year-old Schutt Air Advantage model helmet. Not only has Schutt discontinued this model, but it's also not certified by the National Operating Committee for Standards and Athletic Equipment, making the helmet illegal to use in the NFL. But, Brown insists that the new helmet hinders his vision and won't play unless he can use a different helmet. 
Brown is not the only player to take objection to the new headgear. Tom Brady, Aaron Rogers, and others have spoken out against the different helmet.
"He has a strong feeling about what he's worn on his head, and we're supporting him," Gruden said. "We understand the league's position as well, so we're in a tough spot, and we hope Antonio is here soon because he's exciting to be around. I'm excited. I've got some plays for him. I hope we can start calling them."