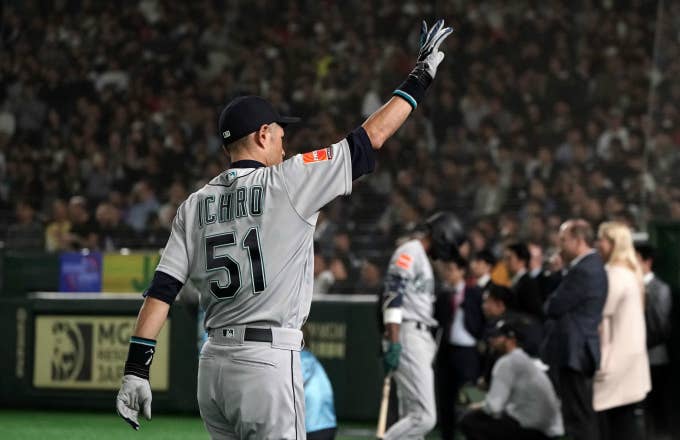 Sources confirm that iconic outfielder Ichiro Suzuki has told the Seattle Mariners he will retire after Thursday's game in Tokyo.
Ichiro decided to end his nearly 26-year long career in a fashion that incorporated the two worlds he helped combine. After the Mariners took the field during the eighth inning of their exhibition against the Oakland A's, all of Seattle's players left for the dugout except the Japanese superstar. Instead, Ichiro took one final look at the fans in his native country before leaving the diamond to a standing ovation.
Although many assumed Ichiro would hang up his cleats after the team's Japan series or before they opened the regular season, fans were hoping the 45-year-old would continue his highly decorated career.
Upon entering Japan's Nippon Professional Baseball (NPB) league in 1992, Ichiro quickly rose became one of NPB's most popular players. He was a three-time NPB MVP as well as a seven-time All-Star and 1996 Japan Series Champion. This caught the attention of MLB scouts and in 2001 he was drafted by the Seattle Mariners. While in the U.S., his dominance continued. He won the Golden Glove on 10 separate occasions, was named the 2001 American League MVP, in addition to shattering a host of records. Because of this, Thursday's struggles at the plate (Ichiro went 0-for-4 with a strikeout) did not faze fans or players as Ichiro's exit was met with several tearful embraces.