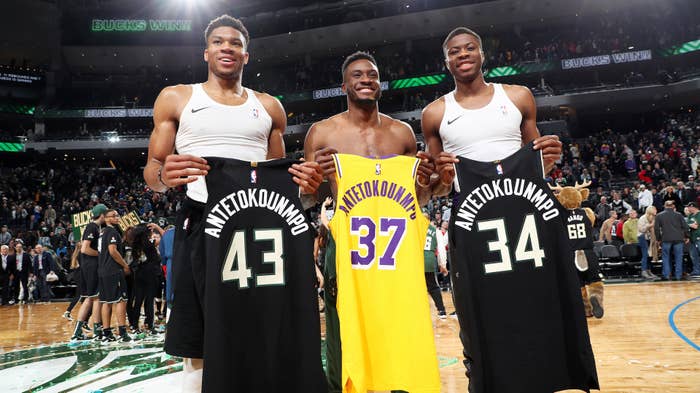 If Giannis' mom gets her wish, the Antetokounmpo brothers could join forces in the future. 
During a conversation with USA TODAY, Giannis Antetokounmpo said it would be "amazing" if he and his brothers, Thanasis and Kostas, were able to find a way to one day play together in the NBA, especially for their mother.
"I think that would be amazing," Giannis said. "Obviously we'd spend more time together and I'm 100 percent sure my mom would love that."
Giannis and Thanasis already play together on the Milwaukee Bucks. As for Kostas, he's on a two-way contract with the Lakers, and has spent most of this season in the G-League with the South Bay Lakers. So take the following quote from Giannis with a grain of salt.
"But if we could team up in Milwaukee, L.A. or whatever that'd be awesome," Giannis said. Although he was probably speaking hypothetically, people took his comments and ran with them.
Wherever he goes, the Greek Freak will be the biggest free agent to hit the market in 2021. He's already reportedly been getting tugs from the Golden State Warriors, Knicks, Miami Heat, Lakers, and more.
Despite these stories, Giannis has maintained that he's content with his life in Milwaukee. When asked about his free agency during All-Star weekend, Giannis claimed that he's open to playing with the Bucks for the rest of his career. 
"I can't think that far ahead. I'm just trying to focus on the moment and get better," he said. "But why not? I'm a guy that wants to be with a team for a while. As long as we're winning. And we're winning so far, so I don't think anything's going to change."