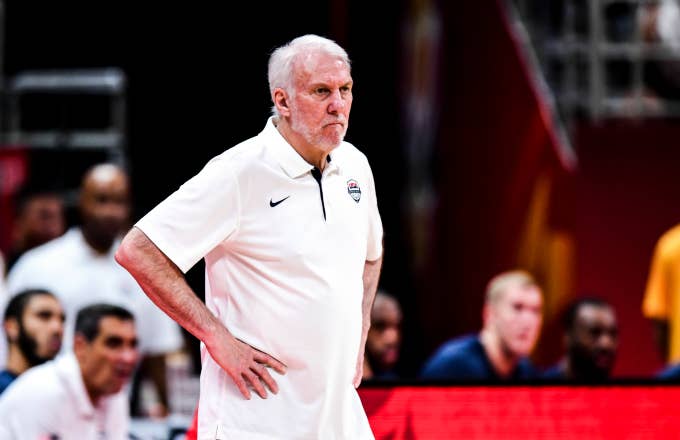 After a summer of injuries and elite players outright saying no to joining, Team USA was still expected to be a top contender in the FIBA World Cup. They weren't and instead ended up at an un-American seventh. USA Coach Gregg Popovich isn't going to let critics have at his team, though.
"Some people want to play the blame game. There's no blame to be placed anywhere," Popovich told ESPN. "They want to play the shame game, like we should be ashamed because we didn't win a gold medal? That's a ridiculous attitude. It's immature, it's arrogant, and it shows that whoever thinks that doesn't respect all the other teams in the world and doesn't respect that these guys did the best they could." 
With Saturday's victory over Poland, Team USA wrapped up their FIBA appearance in seventh place. This is the worst performance for the national team in any major event. This team was undermanned: Thirty-one of the 35 players who were selected to play on Team USA last summer pulled out before the competition began. A host of the reserve players that were chosen as replacements decided not to compete. Team USA only had nine available players in their 87-74 win over Poland; Boston teammates Kemba Walker and Jayson Tatum were both sidelined with injuries. With misfortunes like these, Pop thinks his team put together a heroic effort with the cards they were dealt.
"Their effort was fantastic. They allowed us to coach them," Pop said. "You give people credit for what they did, and that's it. But it's not a blame and shame game. That's ridiculous."
Team USA will look to regroup as they prepare for the 2020 Olympics in Tokyo.