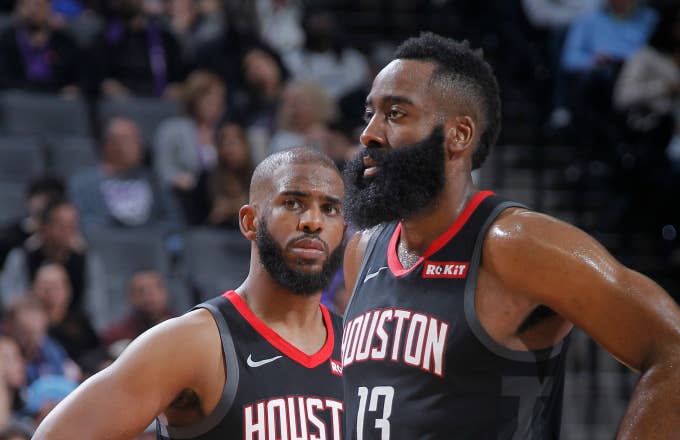 UPDATED 5:33 p.m. ET: Chris Paul took to the comment section of Bleacher Report's Instagram page to playfully dispell the trade rumors.
"Damn! That's news to me," Paul commented on a picture that included a caption of his reported intentions. 
Additionally, Daryl Morey said that Paul's agents have not asked for a trade, and he fully expects the point guard to be on his roster next season. Morey adds that Paul and Harden are still sympatico and that he has been in touch with them since their season ended. 
See original story below.
The Houston Rockets are coming undone. While the tug-of-war between the coaching staff and front office plays out in the background, most eyes are focused on the tension between Chris Paul and James Harden. This turmoil might have hit its peak Tuesday, as Paul reportedly wants out of Houston. 
According to Yahoo Sports' Vincent Goodwill, Paul feels his relationship with James Harden has become "unsalvageable." Sources claim that after the team lost to a Kevin Durant-less Warriors team, Harden gave the Rockets' management an ultimatum. The MVP candidate allegedly told executives that it's "him or [Paul]." But before Houston was able to make a decision, Paul demanded a trade. 
This comes after the players went nearly two months without talking to each other. Insiders say Harden continually ignored Paul's outreach. This led to the two instigating "petty" behavior during practices. 
"There's no respect at all, on either side," a source told Goodwill. "They need to get away from one another. Chris doesn't respect James' standing in the league, and James doesn't respect the work Chris has put in to this point."
The source of their beef seems to be rooted in Paul's constant criticism of Harden's playing style. Paul is said to have complained to coach Mike D'Antoni about the lack of movement when Harden gets the ball. In return, Harden would mention Paul's injuries and lack of presence on the court. 
Despite these reports, Houston's general manager, Daryl Morey, said on Monday that these accounts are blown out of proportion. According to Morey, Paul and Harden clash simply because they are two competitive people. He even went as far as to say that the Rockets' starting five will return next season as they make a push to claim the Western Conference. However, this might be his attempt to control the narrative of a situation one source says "can't be fixed."