Bill Simmons: Warriors Took Issue With Timing of Kevin Durant's Nets Announcement
Steph Curry was reportedly a big part of the Warriors' recruitment plan.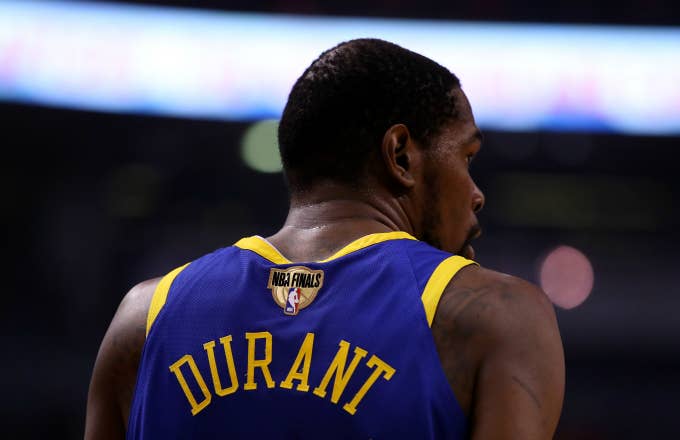 Getty
Image via Getty/Gregory Shamus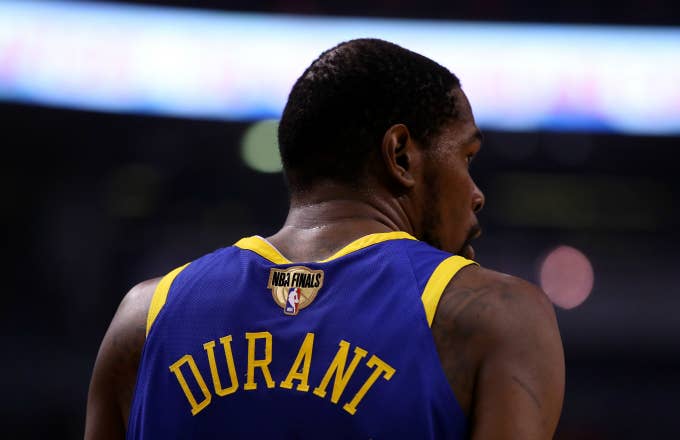 Although Kevin Durant's time with the Warriors has ended, his former teammates and the organization have openly stated they respect his decision to move on with the Brooklyn Nets. This isn't true, according to Bill Simmons. The sports personality reports that Steph Curry and the Warriors were actually bothered by the timing of Durant's announcement. 
Many stars spend part of their offseason embarking on a promotional tour around China because it's one of the NBA's biggest foreign markets. Steph Curry allegedly decided to cut his China trip short so that he could meet with KD and possibly convince the two-time Finals MVP to stay. Durant announced he was going to Brooklyn before his plane could land. Simmons claims the Warriors and Curry took this personally in the latest episode of his podcast.
"About an hour before the plane lands, all of a sudden it's KD is gonna be announcing on his Instagram that night, all this stuff and Curry's like, 'What's going on?' And then it gets announced he's signing with Brooklyn," Simmons explained. "Curry's plane hasn't landed yet. He lands and decides to do the dignified thing and he goes to meet KD anyway, basically to say goodbye to him. But, from what I've heard, the Warriors took that personally."
Simmons' comments contradict reports stating Steph was merely flying to New York to tell express gratitude for all KD has done for the organization. The Warriors still reportedly believed they had "a puncher's chance" to sway Durant and Steph was a part of this recruitment plan. First Take's Stephen A. Smith claims Durant was not a fan of coach Steve Kerr, so his decision could've been made before the season ended.
"Kevin Durant did not have the greatest relationship with Steve Kerr," Smith disclosed. "He wasn't too fond of Steve Kerr at all. I don't know the particulars, but I do know that."
Despite the alleged tensions, the Warriors said that they will retire KD's No. 35 jersey.