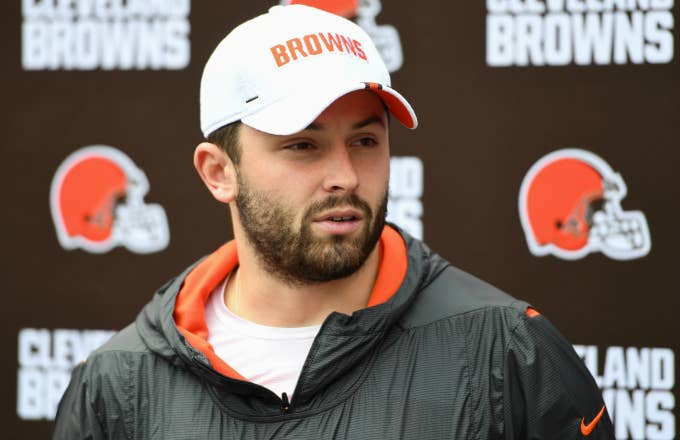 Baker Mayfield has had an immediate impact on the Cleveland Browns. Although they missed the playoffs, he helped lift the perennially awful team to a seven-win season. One of those victories came in dramatic fashion against his former coach, Hue Jackson.
"I'm not gonna lie to you and say that the first time I played Hue did not feel good. It's human nature to want to get revenge," Baker said in a new ESPN profile.
In October, the Browns fired Jackson, leading him to take an assistant coaching job with their division rival, the Cincinnati Bengals. When the Browns eventually faced Jackson and the Bengals, Mayfield took out his frustrations on the Cincinnati defense. He also made it clear that Jackson was his target by staring the coach down after throwing a 66-yard touchdown.
Mayfield later stood by his antics, and said that "football's not meant to be a soft game." He also called Jackson "fake" on social media.
When asked about it by ESPN's Mina Kimes, Mayfield doubled down. 
"I said what I meant," Mayfield said. "Don't stand up in front of us the week before and try to tell us you're doing everything for us, then go take a job with a team we play twice a year. It was one of those honesty and respect things."
Now that Mayfield has settled some scores, he seems primed for a big year. The team acquired superstar wide receiver Odell Beckham Jr. from the New York Giants, which instantly gave them one of the NFL's most dynamic offenses, at least on paper. But not everyone has been convinced that OBJ and the Browns are a good fit. Colin Cowherd has been critical of both OBJ and Mayfield, and has questioned whether or not they're mature enough to lead the Browns. Mayfield came to OBJ's defense once before, and did it once again with ESPN. 
"He's here to play in front of fans who actually care," Mayfield said. "Who actually show up to every game, pack the stadium, and love him for who he is."
Read the rest of ESPN's Baker Mayfield profile here.