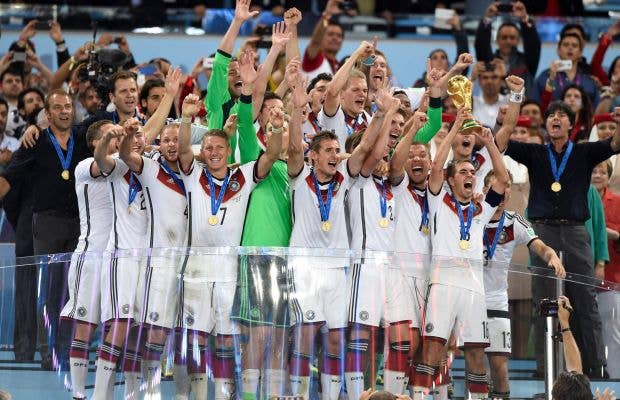 Now that the big trophy has been given out for the 2014 FIFA World Cup following Germany's 1-0 win over Argentina, FIFA has also handed out the individual hardware for the tournament as well. There are some surprises in the selections, which in classic FIFA fashion are made via super-secret balloting.
adidas Golden Ball: Lionel Messi (Argentina)
adidas Silver Ball: Thomas Muller (Germany)
adidas Bronze Ball: Arjen Robben (Netherlands)
Messi is a bit of a surprise choice, given his relatively lackluster finish to the tournament. Granted, "lackluster" for Messi still puts him among the best players in the world, but it's hard to ignore the facts: Argentina went scoreless over their final 322 minutes of play at the tournament, and Messi provided just one assist and no goals during their four knockout stage matches. However, you could also argue that the reason that they made it to the Final at all was because of the immense burden Messi carried so capably, being forced to take on (and often beating) two, three, and four defenders at once.
adidas Golden Boot: James Rodriguez (Colombia) - 6 goals, 2 assists
adidas Silver Boot: Muller (5 goals, 3 assists)
adidas Bronze Boot: Neymar (4 goals, 1 assist)
The biggest breakout star of the tournament was Rodriguez, who scored in every single game he played and pushed Colombia into the Quarterfinals. His spectacular goal against Uruguay was perhaps the tournament's best, and marked only the beginning of what should be a brilliant career.
adidas Golden Glove: Manuel Neuer (Germany)
Neuer was tremendous for Germany, often functioning as a "sweeper keeper" and logging four clean sheets. His command of the 18 yard box made him an easy choice for the award, although this was certainly a tournament that saw many outstanding performances by the goalkeepers, including (but not limited to) Costa Rica's Keylor Navas, Argentina's Sergio Romero, USA's Tim Howard, and Mexico's Guillermo Ochoa.
Hyundai Young Player Award: Paul Pogba (France)
This award goes to a player born after 1/1/93, and Pogba is a tremendous choice. He was named Man of the Match in France's 2-0 Round of 16 win over Nigeria, netting the winner in the 79th minute. He was outstanding in all five of France's matches, and has a very bright future ahead of him.
FIFA Fair Play Award: Colombia
Colombia took home the award due to their strong disciplinary record (just five yellow cards in five matches), and their tremendous spirit throughout. Per FIFA, they also won "for scoring highly in the criteria set by FIFA's Technical Study Group, which includes positive play, respect towards the opponent and match officials, as well as the behaviour of their team officials and supporters.
RELATED: Germany Wins 2014 World Cup, Defeats Argentina 1-0 in Extra Time (GIFs)