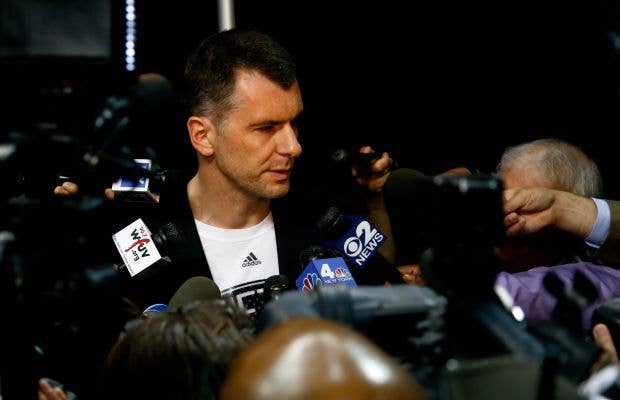 In a development that is surprising until you remember how much the Clippers just sold for, Brooklyn Nets owner Mikhail Prokhorov is listening to offers for the team. According to Yahoo Sports' Adrian Wojnarowski:
Sources: In wake of Clippers $2B sale price, Prokhorov's listening to purchase overtures on his Brooklyn Nets.

http://t.co/ERekpGx4Cd
The Yahoo report does note, however, that none of these talks are being initiated by Prokhorov. That doesn't change the new economic reality of the NBA; if the Clippers are worth $2 billion, then surely the Nets are worth just as much, if not more.
It was less than five years ago when Prokhorov spent a "paltry" $223 million on 80 percent of the Nets and a 45 percent share of the Barclay's Center, which will also take on the New York Islanders as a tenant beginning in the fall of 2015. He is a businessman at heart, and there's no doubt that clearing over $1.5 billion on a five year investment has to be incredibly tempting to the Russian magnate.
Right now any rumors of a sale are all just speculation, but these things can get serious in a hurry. Stay tuned.
RELATED: Nets Owner Mikhail Prokhorov Reveals What He Has In Common With Jay-Z
[via Yahoo]