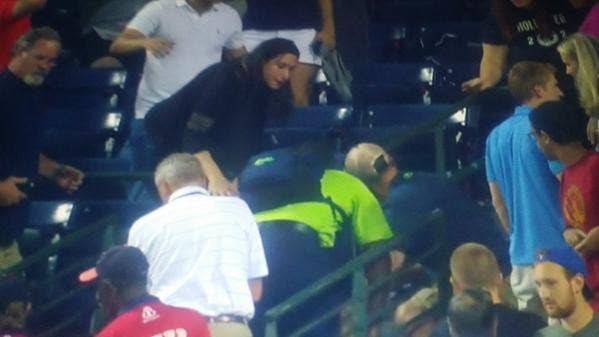 (UPDATE): The fan who fell two decks to the concrete level during tonight's Yankees-Braves game has died.
He was taken to a nearby hospital after paramedics tried to resuscitate him following his scary 100-foot fall. A Yankees reporter tweeted condolences upon learning the fan had died:
See the original story below.
During the seventh inning of tonight's Yankees/Braves game at Turner Field, fans witnessed a horrific moment when a fan fell two decks down from his seat in Section 401. This was an approximated 100-foot plunge into the concrete level and paramedics were immediately called in to aid the fallen fan.
An anonymous witness to the incident told NJ Advance Media it was a man who was reportedly heckling Yankees third baseman Alex Rodriguez when he came to bat. The fan was in the second row of Section 401, and the witness claimed that "it was almost as if he jumped."
The fans in the area left their seats soon after the accident with security, and several rows from the section were cleared out for an investigation.
The Braves issued an official statement on the incident: "There was an accident during tonight's game involving a fan. The fan was immediately treated at the scene and transported to a local hospital."
To make things even more shocking, the game was continued without any suspension of play due to the tragedy. Stay tuned for more details.
Send all complaints, compliments, and tips to sportstips@complex.com
[via BlackSportsOnline]