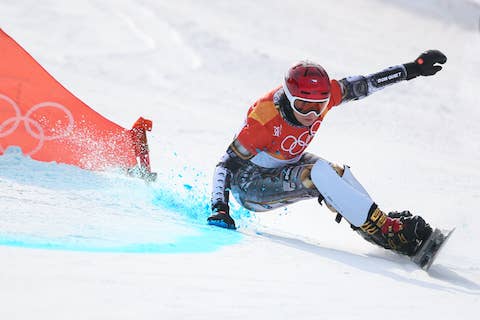 An irresponsible squirrel had a death wish during the parallel giant slalom event in PyeongChang on Saturday, when the rodent ran right into Austrian snowboarder Daniela Ulbing's run. The rodent appeared out of nowhere and as it attempted to dart across her path, came within inches of her board. Ulbing remained perfectly calm and poised, as she maneuvered her board around the squirrel. She ended up coming in first place in her heat.
It seems like this year's Winter Olympics has been unusually full of various antics. On Saturday, the US men's curling team won gold medals but were mistakenly given women's curling medals during their ceremony, and the week prior, NBC mistakenly announced the winner of the women's super giant slalom competition before all the contenders had competed. A Canadian athlete, his wife, and his trainer were arrested on Friday night for driving while under the influence of alcohol. On Feb. 13, after US snowboarder Shaun White won his historic third Olympic gold medal for the men's halfpipe, allegations of a sexual harassment case from 2016 resurfaced.
In amazing firsts though, the Jamaican women's bobsled team became the first women's team from the island to participate in the event, and with the odds stacked against them, won.
The Olympics come to an end on Feb. 25, and to everyone's excitement, our favorite president's favorite daughter and senior White House adviser Ivanka Trump traveled to South Korea on Friday to meet with President Moon Jae-in. She will be leading the US delegation in the closing ceremony. Hopefully, she'll do a better job than Vice President Pence, though the bar is low.