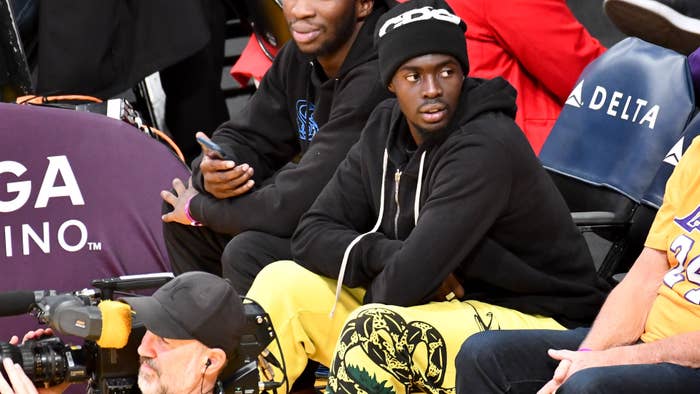 UPDATED 11/21/20 5:21 p.m. ET: After not getting picked in the 2020 NBA Draft, Sheck Wes dropped off the music video for his new song "Draft 2020." The comedic video feature appearances from Ronnie 2K, Zack Bia, and others.
You can watch the video for the track, which was directed by Sheck and White Trash Tyler, up top via YouTube. The song is available over on streaming platforms such as Spotify and Apple Music.
Sheck also updated his fans on his basketball aspirations, announcing that he signed with basketball club based in Paris.

See original story from 11/18/2020 below.
Sheck Wes is convinced his NBA dreams are finally coming true.
On Wednesday night, the Harlem-bred rapper took to Instagram to announce he has entered the 2020 NBA Draft, which kicks off tonight at 8:00 p.m. ET. Wes posted a series of photos of him on the court and included a caption in which he reflected on his NBA aspirations.
"Damn... it's really real , The 2020 NBA DRAFT , all my life I always wanted to follow my passion for music and basketball," he wrote, before thanking the league for its support. "Playing basketball and going to play pro in the @nba is something that I always strived for. Tonight that dream comes true! I want to thank the @nba for their hard work with the growing the game and every team that gave me an opportunity to work out and talk with them. I also want to thank my team and my fans for always being there ! TUNE IN TO THE 2020 NBA DRAFT tonight!"
Wes, who is a good friend of Orlando Magic's Mo Bamba, reportedly played competitive basketball in the Amateur Athletic Union (AAU) youth league before his modeling and music career began picking up steam. During a 2018 interview with Pitchfork, the now-22-year-old entertainer reiterated his dream of playing professional ball, revealing it was one of many ambitious goals on his bucket list.
"My whole life, I've always tried to be a star. That's why I tried to do everything," he said. "I want to win Nobel Peace Prizes, as many Grammys as I can, Emmys, Golden Globes, VMAs, everything. I want to play in the NBA. I'm dead serious."
Will Wes fulfill his years-long goal and actually make the cut? We'll have to wait and see. Until then, you can read some of the reaction's to the rapper's announcement below.