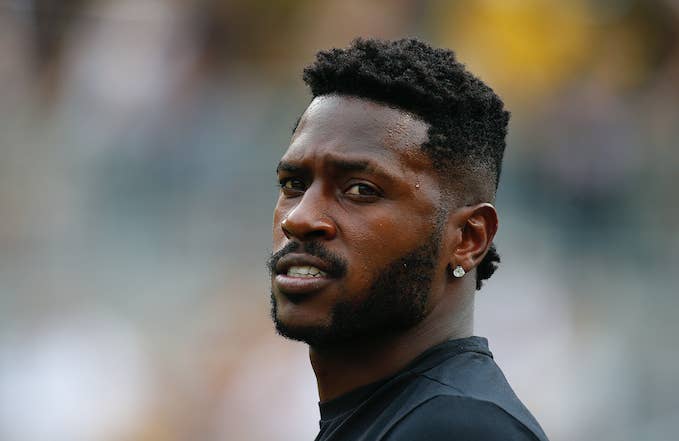 It's been an eventful weekend for Antonio Brown, to say the least.
The wide receiver was released from the Raiders on Saturday, following a dramatic offseason that included a hot air balloon stunt, helmet grievances, multiple fines, and a purported confrontation with Oakland GM Mike Mayock. Hours after Brown became a free agent, it was reported that he was headed to New England, agreeing to a one-year, $15 million deal that included a $9 million signing bonus.
The six-time All-Pro seemingly confirmed the report via social media, posting an image of him rocking the Patriots uniform.
With the deal, the Patriots become Brown's third team in 2019, as he was traded from Pittsburgh to Oakland back in March. News of the move drew mixed reactions on social media, with many fans feeling shocked, others excited, and some suspicious. The latter group has theorized that Brown planned to join the Patriots roster all along—even before he had signed to the Raiders.
You can read more reactions to the deal below.
Coming into the season: "Brady won't have Gronk this year"

Patriots receiving core now:

Antonio Brown

Julian Edelman

Josh Gordon

pic.twitter.com/LlpB1QIVYM
Oh no. I had a thought: Antonio Brown joining the

#Patriots

almost certainly means no more social media… at least, not like it was ☹️