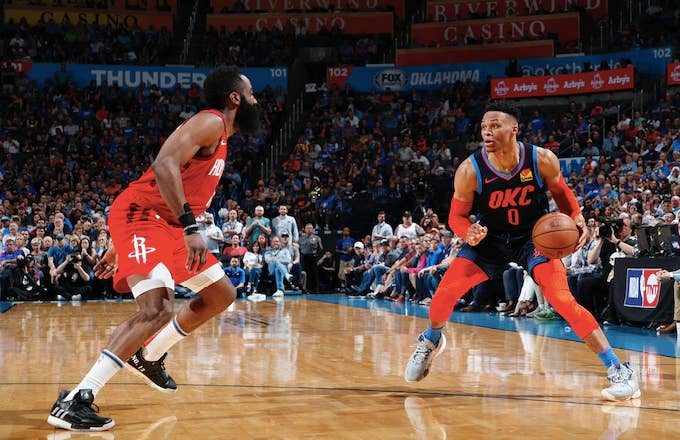 UPDATE on 7/8 at 4:15 p.m. ET: Despite the rumors, ESPN's Tim MacMahon claims that Houston would be an unlikely landing spot for Russell Westbrook. 
A source close to the Rockets told MacMahon that Houston has a "long shot" at trading for Westbrook. This is due to the Rockets' inability to find pieces that fit the Thunder's rebuild and the lack of interest in a third-party to help supplement a deal.
See original story below.
A Russell Westbrook-James Harden reunion could be imminent.
On Saturday, the Oklahoma City Thunder locked down a major trade deal that sent Paul George to the Los Angeles Clippers. Immediately after the deal was announced, questions surrounding Westbrook's future with OKC began to surge. It was reported that the Miami Heat was looking to make a run at the eight-time All-Star; however, NBA insiders say Houston will "likely" be Westbrook's destination.
Per The Athletic's Sam Amick and Brett Dawson:
Rival executives have also pinpointed the Houston Rockets as a likely suitor, which would come as no surprise considering the way general manager Daryl Morey has prioritized the pursuit of stars during his entire career (not to mention the possible reunion between Westbrook and his old Thunder teammate James Harden). The notion of Westbrook sharing the floor with two other ball-dominant guards is unorthodox, to say the least, but Morey has long held the belief that landing as many elite players as possible is the path to championship glory.
The news is in line with the ESPN report that Westbrook and his agent were in talks with OKC general manager Sam Presti about the next steps, which could include a trade over the summer.
"The Thunder could rework the roster to try to remain competitive around Westbrook and Steven Adams, although that scenario is unlikely," Adrian Wojnarowski wrote. "Operating well over the salary cap with a projected salary tax payment of $43 million with the existing roster, the Thunder were in cost-cutting mode before George's trade and will only accelerate on that front now."
Tim MacMahon of ESPN has confirmed the Rockets' interest in Westbrook; however, he was told by a "well-informed source" that the deal is a "long shot."